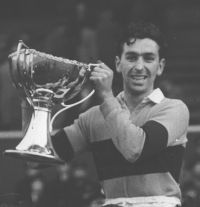 The Supporters Association presented the first Player of the Year award in April 1956 when Andy Paton received a silver cup from Sailor Hunter at a dinner dance in Overton Miners Welfare.


The great man was further honoured in 2007 when he was declared the "Greatest Ever" Motherwell player. He served the club for 16 years, collected both domestic cups, a Second Division title and 3 Scotland caps.

His successors had a hard act to follow.


| | | | | | |
| --- | --- | --- | --- | --- | --- |
| 1956 | Andy Paton | 1976 | Joe Wark | 1996 | Paul Lambert |
| 1957 | Charlie Aitken | 1977 | Stuart Rennie | 1997 | Mitchell Van Der Gaag |
| 1958 | Charlie Aitken | 1978 | Gregor Stevens | 1998 | Tommy Coyne |
| 1959 | Ian St John | 1979 | Stuart Rennie | 1999 | Ged Brannan |
| 1960 | Joe Mackin | 1980 | Hughie Sproat | 2000 | Don Goodman |
| 1961 | Pat Quinn | 1981 | Joe Carson | 2001 | Stevie Hammell |
| 1962 | Bobby Roberts | 1982 | Stuart McLelland | 2002 | Eric Delomeaux |
| 1963 | R McCallum | 1983 | Ally Mauchlen | 2003 | Martin Corrigan |
| 1964 | Joe McBride | 1984 | Andy Dornan | 2004 | Stephen Craigan |
| 1965 | Pat Delaney | 1985 | Graham Forbes | 2005 | Scott McDonald |
| 1966 | John Martis | 1986 | Tom Boyd | 2006 | Graeme Smith |
| 1967 | John Martis | 1987 | Fraser Wishart | 2007 | Mark Reynolds |
| 1968 | Peter McCloy | 1988 | Craig Paterson | 2008 | David Clarkson |
| 1969 | Joe Wark | 1989 | Stevie Kirk | 2009 | Stephen Craigan |
| 1970 | Keith MacRae | 1990 | Tom Boyd | 2010 | John Ruddy |
| 1971 | Bobby Watson | 1991 | Ally Maxwell | 2011 | Keith Lasley |
| 1972 | Willie McCallum | 1992 | Phil O'Donnell | 2012 | Keith Lasley |
| 1973 | Joe Wark | 1993 | Seib Dykstra | 2013 | Michael Higdon |
| 1974 | Bobby Graham | 1994 | Brian Martin | 2014 | Keith Lasley |
| 1975 | Bobby Watson | 1995 | Brian Martin | 2015 | Lee Erwin |
2016 Louis Moult
2017 Louis Moult
2018 Trevor Carson
2019 David Turnbull
2020 Declan Gallagher
2021 Tony Watt
2022 Liam Kelly