Our club captain, Phil O'Donnell was taken ill during the last ten minutes of our home game against Dundee United on Saturday 29 December 2007.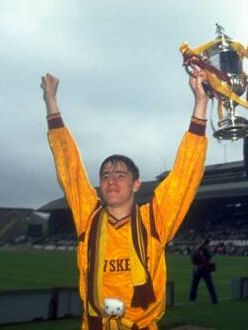 He was treated in front of a hushed crowd by both club doctors before being removed to Wishaw General.His wife and four children were watching from the Main Stand.The game was completed but very few were able to give full attention to the proceedings on the pitch.Clarkson was replaced and ran up the tunnel.Everyone hoped for the best but Phil was pronounced dead at 1718.

Mobile phone calls and text messages began to suggest the worst and some time later confirmation of our loss came from club chairman Bill Dickie. A statement was issued to the press at the hospital.The dreadful news spread quickly and came as a devastating shock to all.Many Motherwell fans had reached home as the news broke.Some were still travelling and others were in local pubs hoping to celebrate the team's wonderful win as the year drew to a close.United's supporters were also stunned to realise that they had witnessed Phil's last moments.

As the evening drew on the whole football community from Scotland and beyond joined together to express their feelings at the sudden loss of a well liked player who had passed away at the age of thirty five.

Internet messageboards began to fill with messages of condolence for his family.Fans started to tie Motherwell scarves to the railings outside FirPark and the news organisations began to set up camp.The front pages of the Sunday papers were cleared to make way for the sad story.

These pages record Phil's wonderful contribution to Motherwell during his two spells at the club.Whether as a young cup winning hero or as the veteran club captain of a resurgent team, we all have the fondest of memories to treasure.


Motherwell Captain, Phil O'Donnell has Died
A Man Amongst Boys - Mark McGhee
Marvellous Motherwell Destroy United
Tam's evening raises thousands