Motherwell failed to make any impression in the Betfred cup tie at Parkhead and were fortunate to lose by 5-0, it could have been much worse.
It was an awful showing from McGhee's men. We paid a heavy price for the initial plan that never had hope of keeping Celtic out. The first goal sealed our fate and we were unable to make the switch from all out defence to attack.
Lasley and Chalmers came into the team as McHugh and Ainsworth made way. Celtic kicked off and the pattern of the game was immediately established.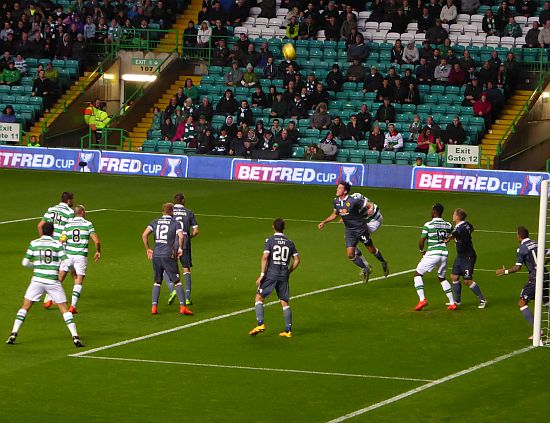 Motherwell defended for almost the whole match
Motherwell set up a five man defensive line with Chalmers positioned to Hammell's left and invited Celtic to attack. The home team duly took up the challenge and with acres of room they built wave after wave of forward play.
It looked like a suicidal tactic by McGhee and the inevitable opening goal came in 20 minutes when Rogic blasted high into our net. Now that the game plan was blown Chalmers advanced to midfield.
But the tone had already been established and Samson had to pull off several good saves from Sinclair and Dembele. Our 'keeper had his woodwork to thank in one instance but in 34 minutes Celtic were awarded a softish penalty when the referee judged that Tait's collision with Sinclair on the dead ball line was illegal. Dembele duly dispatched the spot kick.
We made a couple of rare appearances in the other goal area as the interval approached. Johnson tried his luck with a left footed curler from the right side of the box and we even managed a corner before the relief of the half time whistle.
Hammell remained in the dressing room at the break and Ainsworth took to the field. There was a brief flurry immediately and we earned a corner. Johnson's delivery was met by Heneghan's head but he was off target.
Somehow the third goal was delayed until the hour mark. Before then our goal had many escapes but finally we were breached. Sinclair (60), Dembele (64) and Rogic (75) were the scorers and it was only with a combination of frantic defending and good luck that we managed to avoid further loss.
We can now forget about the League Cup for another season.
Celtic 5 Motherwell 0
Attendance 20,165
Team: Samson, Tait, Hammell (Ainsworth), Hemeghan, McManus, Chalmers, Lasley, Johnson, Cadden, Clay, McDonald