Motherwell marked the start of the fan ownership era with a convincing 4-1 win over Ross County at Fir Park. Two goals in each half had us in easy street and the score flattered the visitors.
We needed a performance to wash away the disappointment of the midweek loss to Inverness and the team delivered. Bowman and Maclean dropped to the bench and Lasley's foot injury forced him to watch from the bench. Ainsworth and and McDonald returned and they were joined by Lucas who was given his first league start of the season.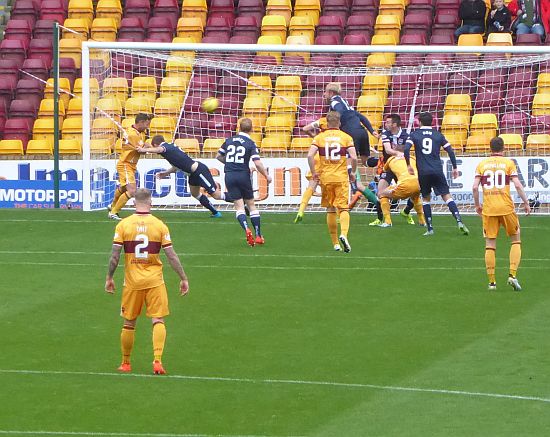 Skippy opens the scoring
It did not take long for some cheer for the 3,000 home crowd. Cadden's pace forced Van Der Weg into a rash foul wide of the penalty box and Ainsworth changed flanks to take the free kick. His delivery found McDonald at the far post and the striker's header beat Fox to put us one up after 8 minutes.
Skippy should have taken his second from 8 yards but he hooked wide with the goal gaping. But the next goal was not long delayed, Moult's ball across the face of goal was deflected into the net by the hapless Van Der Weg. County then had a brief flurry and their attempts grazed the bar and post but we kept our goal intact by half-time.
While Lucas and Clay fought hard in the centre of the park Ainsworth and Cadden provided an attacking edge to offer chances for the striking pair. We were in comfortable control.
Goal number three was a beauty from Tait. The right back had the freedom of the wing and he drove thirty yards into the area. A fierce shot flew into the net between the 'keeper and his near post after 51 minutes.
Ainsworth saw his 54th minute free kick clip the bar but ten minutes later he had better luck. McDonald fed him the ball at the edge of the box and after a side-step he walked the ball into the net.
A consolation from Schalk did nothing to take the shine off the victory and we moved a couple of places up the table.
The manager described the team's effort as "up there with the best of the season" and the aim will be to maintain the form at Dens Park next week.
Motherwell 4 Ross County 1
Attendance 3,137 (116)
Team: Samson, Tait, Heneghan, Mcmanus, Ainsworth (MacLean 85), Moult, Cadden, Lucas (Campbell 83), Clay, McMillan, McDonald