50 years on… A Celebration of Motherwell FC's 1952 Scottish Cup Win
Clan FM deserves the credit for the production of this memento.It comprises archive sound clips from Movietone News, interviews with the surviving players and a narrative of the events presented by James Russell.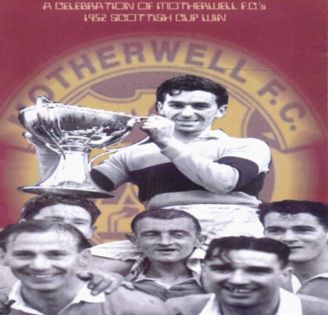 The front cover
John Swinburne, a current 'Well director, contributes with sound pictures of the whole team and Jim Martin also chips in with his memories.
It was a huge event – over 136 000 fans (a post war record), gates locked and celebrations all over the Burgh.
Both the original and modernised versions ofthe 'Up the 'Well' song provide breaks and backing to the interviews.
Of most interest are the interviews with the players (from both 'Well and Dundee).Willie Kilmarnock describes his goal line clearances and the return of the cup to Sailor Hunter at Fir Park, Archie Kelly explains that he expected to win every game and Charlie Cox talks of the relief after the game,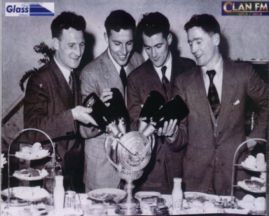 The back cover
The forty two minute CD costs six pounds and is a great momento of this great day in the history of the club.Just the job for wet summer days in the close season!