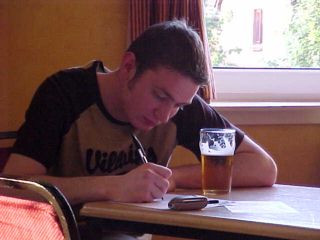 Joe the organiser - deep in thought!
The event was opened by Firecracker who got the night off to a fantastic start. Rainyday Box were next up with a set that eventually won them one of the runner-up slots. Rufus Morgan played through a series of technical difficulties and can be more than happy with their performance and crowd reaction. Other runners-up Dirty Blonde got the crowd on their feet with a brilliant cover of Elvis' "Little less conversation" rounding of what I thought would be the winning set. Late entrants Shiver, playing their first gig in over a year, did well to put together a set at short notice to fill in for Drummer Included who pulled out.
The stage was then set for Motherwell band Lucid, who surpassed Dirty Blonde and claimed victory. Highlights of their set included a cover of Kylie's "Cant get you out of my head". Lucid also gave us a taste of what we can expect to hear when they record and release their debut single, thanks to the prize of 10 hours recording studio time.
RingSting, playing their last ever gig, closed the event with their anthem "I wanna be adored". The judges then announced their decision and left the enthusiastic crowd to enjoy the rest of the evening in the company of the Majestic's resident DJ.
Special thanks extended to all who attended the event, the judges, the organisers, the Majestic for hosting the event and most importantly the bands for turning out and making it a night to remember. Plans are already underway to make it at least an annual event after the tremendous success of last night's event.
(Hearty thanks should also go to Joe Smith – not only for writing this report but also for all the hours of work he put in to make the event happen. Well done! – Ed)