Motherwell's first venture into a UEFA competition came in season 1991/2 following our first Scottish Cup win in forty years. We were an unseeded team in the first round proper of the now defunct Cup Winners' Cup.
Tommy McLean and Alan Dick travelled to Switzerland for the draw and returned with the task of organising a two legged tie with GKS Katowice from Poland. The first leg resulted in over 500 Motherwell making the difficult journey and many fans set off days ahead of the tie. Some buses left Fir Park on the Monday morning for a Wednesday evening kick off and returned immediately planning to arrive home on the Friday. Unfortunately one group turned up at half time and another late into the second half!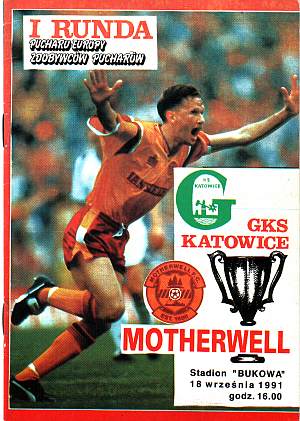 There was great excitement as everyone associated with the club anticipated the tie. The hope was that the tie was still alive for the second leg at Fir Park on the first week in October. The team were unable to train on the pitch on the day before the game as they floodlights were not working a poor compromise was a kickabout nearby thanks to illumination from car headlights. Fortunately the game itself had a 5.30pm start.
Billy ('the Fish') Thomson was the hero of the game and he produced a series of excellent saves to keep the hosts at bay. He was beaten twice, once in each half, by deflections and we had our work cut out for the second leg.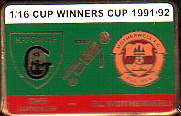 Claret and amber in Poland
The game was the start of a rash of European games that followed in the next few years. It will hold a special place in the memories of those lucky few Motherwell fans who were able to make the trip. As noted above an unlucky few missed most of the game when their bus was delayed. Here are the thoughts of ""Top Ten Ted" writing in the GLF fanzine some years later. He rates it as No.1 in his list of games he missed"
"I don't think that anyone who made the trip to Poland on the buses will be surprised at my No.1. Leaving Fir Park on Monday morning with hopes and dreams coming true. European football was here. Nothing could've dampened the spirit. Even the cludgie being out of order by Carlisle didn't hamper our desire to enjoy our big entrance onto the Euro stage. Made new friends, and had a brilliant time, only to miss the first 82 minutes of the game!!! I still see the sods that slept in on the day of the game and contributed to us missing the match. Neil Greirson must still have nightmares about that trip, though; he could only have had half the amount that I have had over the years. I missed seeing Chris McCart lead Motherwell FC out of that tunnel and into the light of European football, and that still hurts."