It can be argued that the game in Dortmund has been our finest performance to date on the European stage. The stars of the Bundesliga were flattered by their 1-0 win and admitted as much after the final whistle.
This game was the first to allow a big Motherwell support to embark on a 'european tour' and around 1,500 set off by road, rail, ferry and plane to support the team against the might of the Bundesliga team. There were friendly greetings exchanged outside the Westfalenstadion and many tops and scarves were exchanged with our hosts.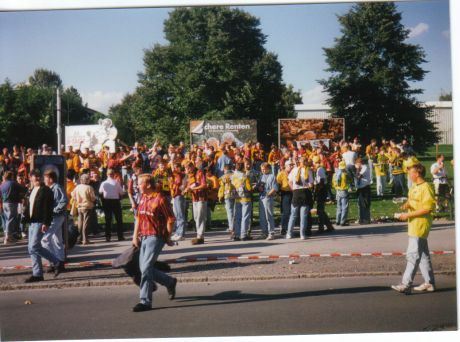 Both sets of fans mingle and swap souvenirs
Dortmund had splashed out £6 million for Brazilian Julio Cesar and Andreas Moller from Juventus and they joined the likes of Chapuisat, Povlsen and Riedle to provide formidable opposition.
Motherwell were weakened by Phil O'Donnell's decision not to travel (despite McLeish's encouragement) and later in the week he made his much expected move to Celtic. The team got a huge ovation from the massed ranks of claret and amber as they took to the field and we were not to be disappointed by their performance.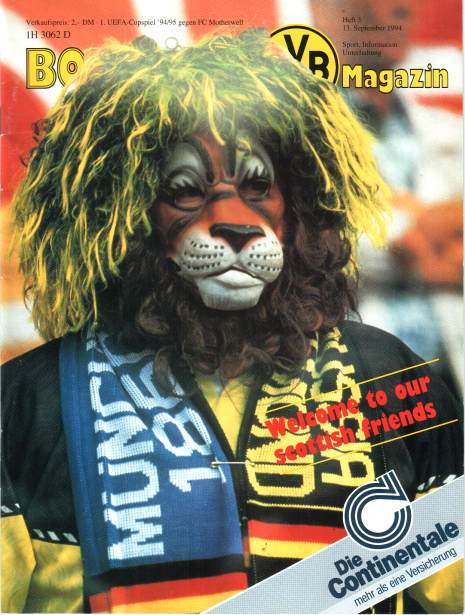 Our newly arrived keeper, Stevie Woods had hardly a save to make in the first half. We passed the ball with calm and authority and had the best of the chances. Lambert and Davies fed the ball to Coyne whose low ball across the face just eluded Lambert on the follow up. Coyne tested Klos on the half hour but the best chance was yet to come. Slack work from Cesar, on his debut, gave Coyne a clear run on goal. It was at the far end from the big Motherwell support and there was an intake of breath and an expectation that he would score. Instead his attempted curl around the keeper missed the target. A few minutes later Dortmund were able to regroup at the break but our chance had gone.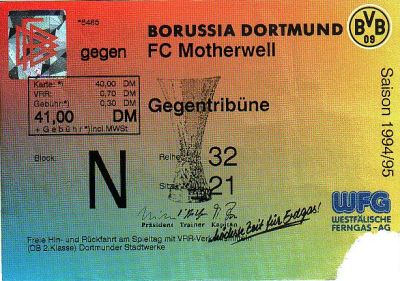 On the hour Moller's run from deep was rewarded when Povlsen provided him with a cross from the right and the game was lost. Frustration got the better of McGrillen in the closing minutes and he saw red after a bad foul on Sammer.
The Guardian's report had this paragraph, "It was more than Dortmund deserved, but may well prove a sufficient advantage for them to ease through in the second leg. The Motherwell supporters, who were still singing long after the game, will not, for a fortnight at least, be worrying about that. It was time instead to celebrate a display that few had anticipated."
As the players made their way to check-in at the airport they were given a standing ovation by the 'Well fans who were taking the fast route home. Others had a long journey to plan for the second leg.