Motherwell had earned high praise for the first leg performance in Germany but a disappointment was in store for the home fans as Dortmund cruised to an easy 2-0 win at Fir Park.
Thanks to the £325,000 paid to Motherwell by German satellite broadcasters the game had a 4pm kick off. Local businesses and schools emptied for the afternoon and 9,362 packed the three available stands due to the construction of what was to become the Cooper stand.
We managed to keep them at bay for the first half but there was a sense of the inevitable around the ground. Arnott had been sent off after half an hour by referee Anders Frisk for a challenge on Chapuisat and with him went our chance. In 52 minutes Klos had his work cut out to stop a McKinnon blast after a tapped free kick from Coyne but the keeper's long ball set up the visitor's opener. Chapuisat took possession and shrugged off a couple of challenges before laying the ball off to Riedle and Woods was beaten from eight yards.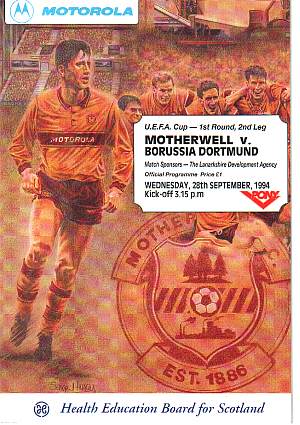 Any faint lingering hope of a miracle disappeared ten minutes later when Riedle finished off a fine move involving Sammer, Freund and Moller. Shannon followed wee Dougie for an early bath following a cruncher on Freund (later the Uefa appeals board would reduce his six match European ban to three games).
We were out of the Uefa Cup but the the old adage that we could now concentrate on the league proved to be accurate. We were to end 1994/5 as runners up, our highest finish for 60 years. Lambert so impressed Dortmund that he joined them in the summer of 1996, an early beneficiary of the Bosman ruling. He became the first British player to earn a Champions League medal.
Motherwell: Woods; Shannon, McKinnon, Philliben, Martin, McCart, Lambert (Kirk, 64min), Dolan, Coyne, Arnott, Davies (Burns, 84).
Borussia Dortmund: Klos; Reinhardt (Tanko, 74), Schmidt, Freund, Cesar Silva, Sammer, Reuter, Zorc, Chapuisat, Moller, Riedle (Ricken, 74).
Referee: A Frisk (Sweden)