The most arduous part of the second leg of our 94/5 Uefa Cup adventure was the complicated journey to Tórshavn in the Faroe Islands. Still, a three goal advantage from the first leg eased our concerns.
McLeish made one of his rare appearances in a Motherwell jersey for this game and he rested Coyne, Lambert and O'Donnell who were benched.
We were two up at the break thanks to Kirk's header in 13 minutes and a 25 yard blockbuster from Davies after 20 minutes. The Motherwell fans listening to Radio Scotland's coverage were able to think of the next round. Hansen got a goal to cheer the few hundred locals (there were 40 'Well fans) and the game was finished when Kirk and Burns scored to deliver a 7-1 aggregate win. McLeish commented that Havnar had run out of steam.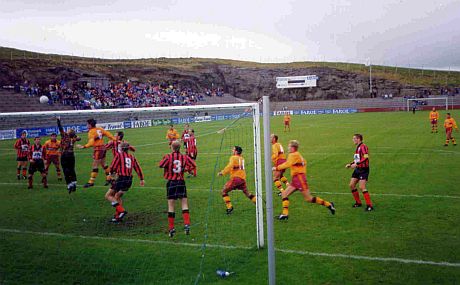 Kirk said, "It was freezing cold, blowing a gale on top of a mountain. I'd say we did well".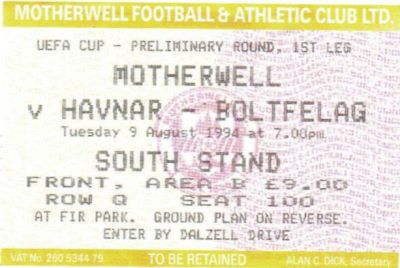 McLeish had signed 39 year old Ray Allen as backup for Stevie Woods. He had 491 appearances for Cowdenbeath and a long career in the lower leagues. He got his chance to play in Europe when he was given a spell in the second half. It was to be his only first team appearance and within three months he was released to sign for Raith Rovers.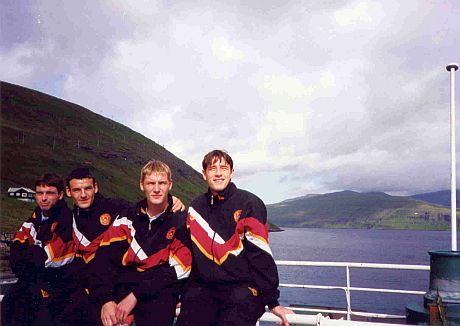 Another curious circumstance arose after the match. Two members of each squad were chosen at random for a drug test and strangely all four were substitutes none of whom had kicked a ball. And for evidence that not much has changed over the years, Aberdeen lost on the away goals rule to the Latvian's of Skonto Riga that same Tuesday night.
Team: Woods, Shannon, Philliben, McLeish, Martin, McCart, Burns, Dolan, Kirk, Davies, McGrillen Subs:, Allen, McMillan, Lambert, O'Donnell, Coyne