Motherwell's reward for finishing second in 1994/5 was a place in the preliminary round of the Uefa Cup. Hopes were high when we were matched with the little known Finnish team Mypa-47 but we were to be given a shock by the part-timers.
When we look back a the opening game at Fir Park in early August 1995 it becomes clear that the omens were not good. This was to be our first competitive match and we had not sparkled in the pre-season games. Our visitors had half a season behind them and were fully match fit and Dougie Arnott was suspended for this one following his dismissal against Dortmund eleven months earlier and one John Hendry was given his debut. Evens so, we were heavy favourites for the home leg and the 8,280 who were at the game expected us to take a comfortable lead to the second game.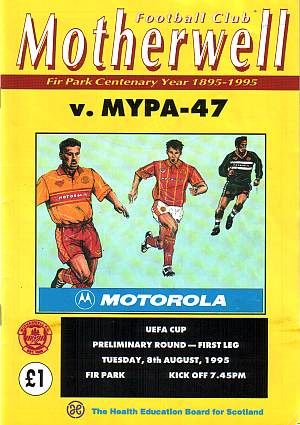 It all started so well. Inside the first ten minutes McSkimming had us in the lead when he converted a cut back from Coyne. We failed to hold the advantage and four minutes later Gronholm took advantage of an error from Martin and easily beat the stranded Woods. It was just the boost they needed and their fitness and strength began to show. On the half hour they took the lead when Tiamen scored from 18 yards. Surely McLeish would sort things out at the break?
The response was to move McCart from right back to centre and swap positions with Martin. Ten minutes into the half Davies replaced Lambert but we were to lose another within a minute. Mahlio collected a cleared corner and blasted into the net from 20 yards. Heads dipped, passes started to go astray and it was clear that a disaster was building.
Davies hit the bar but their defence stood firm. Frustrations grew and McCart, van der Gaag, Dolan and May were booked. Afterwards McLiesh commented that the "players were hiding" and that we looked tired and sluggish. There was work to be done in the second leg.
Team: Woods, May, McKinnon, van der Gaag, Martin, McCart, Lambert, (S55 Davies), Dolan, Coyne, Hendry S76 Essandoh), McSkimming (Subs Philliben, Burns, Howie)