Fir Park was bursting in early October 2008 for the second leg of the UEFA Cup tie against Nancy. The winners would gain entry to the group stage and we had only a one goal deficit to overturn
We were struggling to find the form that had served us so well in the previous season. Hamilton had knocked us out of the CIS Cup and we had won two from seven SPL games but the prospect of a night to remember under the floodlights brought in a crowd of 11,318 despite live coverage on the BBC.
The club played its part in building the atmosphere by keeping ticket prices down and supplying blow-up claret and amber batons for fans to was and clatter. Everything was set for a triumph but the French team had other ideas.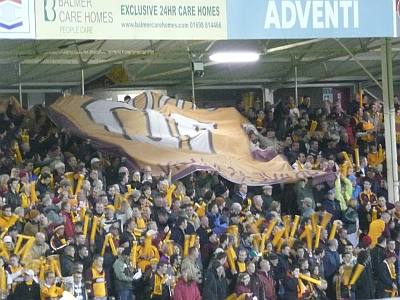 They killed our hopes with two goals inside the first 25 minutes. Marc-Antoine Fortune was presented with a simple five yard chance when Gavanon's 20-yard free-kick was parried by Graeme Smithin 18 minutes then Gavanon curled in a free-kick from the left corner of the penalty area that eluded a clutch of players in the box, before dropping into the far corner of the net, with Smith rooted to the spot.
It was clear that Nancy had been well under par for the first leg and we paid the price for failing to make the best of the opportunity. They handed us a lesson on our own patch. Physically they were stronger and faster and they had the technical ability to exploit their advantage. None of our players looked capable of matching them and all that was left was to admire the exhibition.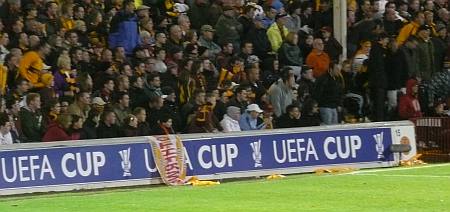 We reached the break without further loss and after an early scare when Zerca almost converted from the edge of the box we started to throw men forward. The visitors' defence was untroubled and despite finishing the game with five forwards (Darren Smith, Murphy, Clarkson, Porter and Sutton) we hardly managed a shot on target.
We were to see more of Fortune in succeeding seasons after his move to Celtic. Mark McGhee's second (and last) campaign fizzled out in seventh place but at least we were to qualify for the new Europa League thanks to a Fair Play place.