We faced a trip to Albania in the second qualifying round to face a team unknown to anyone at the club. Jim Gannon was in his third week in the hot seat and the team was far from settled.
Our hosts had qualified by winning their domestic cup but their league form was not impressive. The prevailing view was that we should win the tie.
There was some initial confusion for those 'Well fans who were considering the trip. The club suggested that the Foreign Office advice was that travel to Vlore was not advised and that tickets would not be made available. Their position was soon reversed and a hardy band made the journey.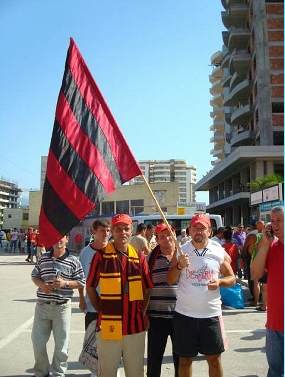 They saw Motherwell have the best of the play, miss a penalty and concede the only goal of the game in 67 minutes. Our opponents were physical and they conceded lots of fouls at the cost of three yellow cards. They caused us some discomfort at corner kicks but for the most part we were comfortable.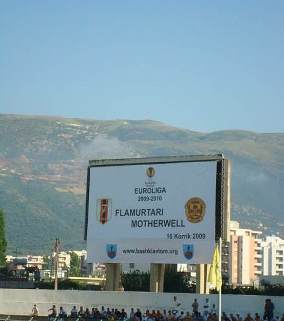 We were awarded a softish penalty when Sutton was challenged and the striker stroked it into the net but the referee noticed some encroachment and the retake was saved. Ten minutes later a twenty yard drive beat Fraser and the first leg was lost.
The tie was still alive and we had a week to prepare for the 'home' leg, in Airdrie.
Have alook at the Flamurtari slideshow.
Motherwell: Fraser, Hammell, Reynolds, Craigan, Sutton, Lasley, O'Brien, McGarry (Fitzpatrick 64), Forbes (Murphy 74), Saunders (Page 40), Slane. Subs not used: Jennings, Hutchinson, McHugh, Kosiorowski.
Flamurtari 1 Motherwell 0
Thursday 16 July 2009
Attendance 4,012