By the time the Albanians arrived for the second leg, we knew that the prize for overcoming the one goal deficit would be a clash against Steaua Bucharest. The young guns did us proud!
Gannon surprised us all with the team selection for this game in the Airdrie sunshine. He choose to field a host of youngsters and they repaid him handsomely for the opportunity. We were close to losing count and the visiting 'keeper's risked a sore back picking the ball from the net. There were three goals from 19-year-old Jamie Murphy, a couple for Ross Forbes, 20, and singles from Paul Slane, 17, Shaun Hutchinson, 18, and Robert McHugh, also 18.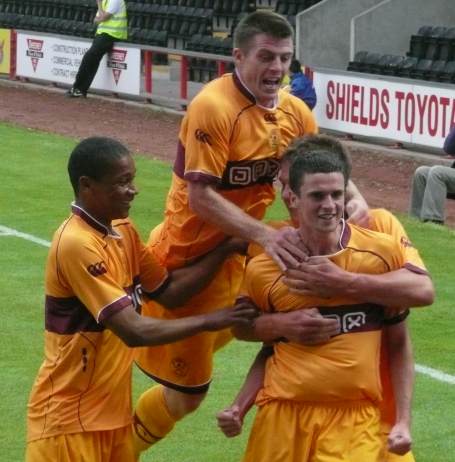 It is an understatement to say that the game was dead and buried by half time, we were leading 6-0. It took around 15 minutes for the first (and untidy poke from Murphy following a Forbes' free kick that caused chaos in front of the Flamurtari goal) but the gates then opened.
We couldn't understand how the team managed to lose the first leg. There seemed to be a huge gulf between the sides and every time we charged up the park it seemed that we would add to the total. Indeed, we scored another two after the break and were gracious enough to allow a consolation to the visitors.
It was an ideal workout in what was essentially a pre-season warm up. A much tougher task lay ahead but the glimpse of those young players was to reinforce Gannon's instinct that his team would be built on youth.
Motherwell: Fraser, Hutchinson, Craigan, Reynolds, O'Brien, Humphrey, Forbes, Jennings, Slane, Sutton, Murphy.
Subs: Kosiorowski, Hammell, Lasley, McGarry, Page, McHugh, Saunders
Europa League 2nd qualifying round, 2nd leg
Motherwell 8 Flamurtari 1
Thursday 23 July 2009
Att 4,641