Despite the loss of a late penalty in Norway, Craig Brown expressed his confidence that we could build on the 1-1 result and move in to the final qualifying round. A win could land a big fish.
The visitors have a huddle
John Boyle was so impressed by the set up in Aalesund that he grabbed some headlines with his plea for Scottish football to consider standing areas, beer in the stands, artificial surfaces and summer football. Altering the size of the league would only be tinkering with the problem.
The game was over as a contest inside the first 15 minutes. Both goals were to be typical of many that would brighten the season, the provider was Humphrey from the right wing. The first was delivered to Murphy in 3 minutes and the second fell to Sutton following Saunders' shot.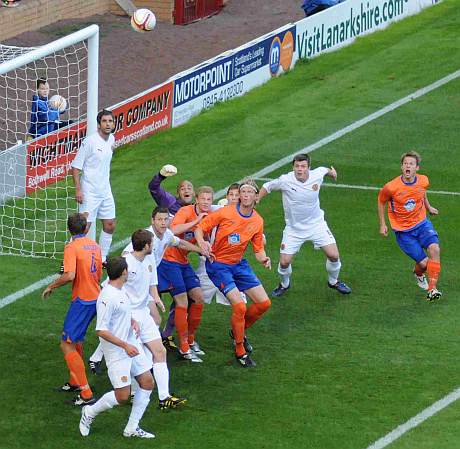 A 'Well strip without a sponsor
We had to wait until the last minute for the third. Murphy skipped beyond the last defender and had a free run on goal. Page appeared in time for the simplest of tap ins when Jamie did the decent thing to lay the ball at his feet with the goal gaping.
The guarantee of a further two games was a decent enough prize but the fact that we had four competitive games before the start of the domestic league season was an ideal preparation