More than 9,000 turned up at Fir Park hoping to urge the team into the final round ahead of the Europa League group stage. A 1-0 win was all that needed but we came up short.
It was one of those all too rare nights in Motherwell when a very healthy home support felt that there was a real possibility of a momentous triumph about to unfold. Unfortunately they had to leave the ground with a feeling that we should have done better.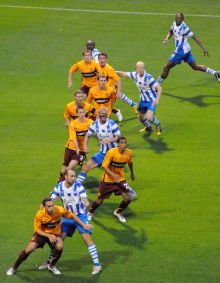 Brown sent out a team set up for attack and for the most part we succeeded in keeping the visitors pinned in their own half. We had everything in the first period except the vital goal. Even worse, Odense, in one of their rare attacks, earned a corner and our defensive carelessness gave Utaka a clear shot. He scored and despite a desperate fight the game was lost.
It became clear as the game progressed that our hard work and dedication would fall short to a team that was technically competent. The visitors showed little flair but they defended well and even when they had been reduced to nine men as the game drew to a close, they held firm.
To rub salt in our wounds Murphy struck the post when we had a late penalty and the last hope was extinguished. Craig Brown grabbed his share of the headlines when he threw a punch in a scuffle with one of the Danish officials.
It was a tale of missed opportunities and we have to hope that the experience of a six game European campaign will stand the team well for the future.
Match report here
Thursday 26 August 2010
Motherwell 0 Odense (Utaka ) 1
Motherwell: Randolph , Saunders, Reynolds, Craigan, Hammell, Hateley, Lasley, Murphy, Humphrey, Blackman, Sutton