Under two thousand turned up for this encounter and most would be regretting their decision until the game sprang to life in the last quarter.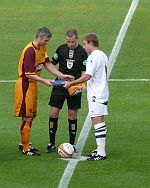 Craigan was captain again...
McGhee sent out what many would consider to be our best eleven against the Championship side and it was clear early on that we faced a team which is, literally, in a different league from our opposition at the weekend (Bradford).


The first half passed without incident and neither 'keeper was seriously tested.Both teams tried to keep the ball on the ground and there were a few passing moves which earned a ripple o5 applause.


We made no changes at half time - surprising, given that we had the usual four trialists listed.Porter came close in 46 minutes.He took a touch on the 18 yard line and poked the ball towards the far post forcing a finger-tip save from Lonegan to concede a corner.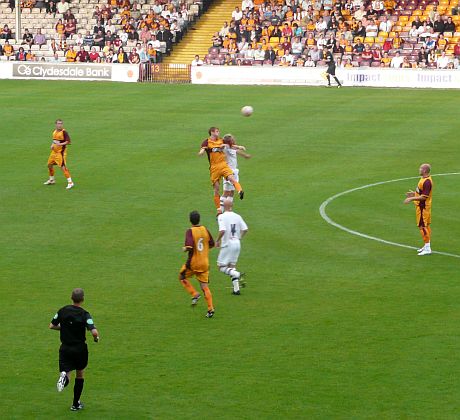 Reynolds in the air
The first substitutions came after the hour when Murphy and Fitzpatrick replaced McGarry and Lasley but it was the second set of changes which produced the spark.Maman replaced Malcom and O'Brien came on for Clarkson.Two minutes later we were in front.


Fitzpatrick supplied young Murphy and from about fourteen yards he knocked the ball into the far corner.The lead lasted a minute and PNE equalised when Mellor produced a volley from twenty five yards.It dipped over the Smith at the South stand goal.


That's enough of the friendlies.Bring on the real stuff a week on Saturday!

Live match day SMS updates and breaking 'Well news for free @ www.twitter.com/firparkcorner