Mark McGhee spoke from outside Fir Park on Sunday. He was flanked by Scott Leitch and Ian Stillie and faced the media in front of the growing bank of Motherwell mementos which lined the outside of the stadium.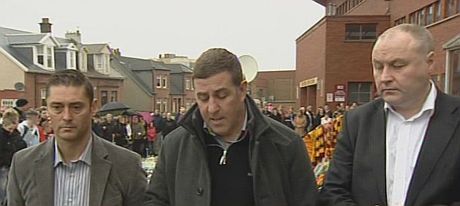 First there was a statement from Bernard O'Donnell, Phil's father on behalf of the family. "None of yet can comprehend what has happened but we have been overwhelmed by the support and messages from people inside and outside the football world.We are grateful for all the support we have received. In the meantime we would appreciate if our privacy is respected and if we could be given time to grieve."


He then said:-

"As far as we are concerned at the football club, exactly the same applies.The players, the supporters and everyone within the executive are devastated and absolutely dumfounded by the event of Phil's death.We had a meeting this morning with the players and obviously they have taken it very, very badly and we're going to have to help them though that.The match on Wednesday against Hibs has been postponed and we have agreed with Celtic that the game on Sunday will also be postponed but we're waiting for that to be ratified by the SPL.


Obviously the football club is overwhelmed with the support shown here.I'd just like to say that we're going to miss a guy who was a fine man, a guy who was a fantastic example to all of his colleagues; he was a man amongst boys in every sense of the word, in his attitude, his professionalism, in his integrity and in his sincerity. He was a great, great player to work with and I was honoured to have been his manager and to have worked with him."


There were in excess of a hundred fans present when the media briefing took place and several players were present including Scott McDonald who, like so many others, looked shellshocked.
The first Minute's Applause to mark the death of Phil O'Donnell took
place at Hull's KC Stadium this afternoon.
It was appropriate that one of his former clubs, Sheffield Wednesday were the visiting team.