The news of the sudden death of former Motherwell captain Bert McCann will give cause for reflection to those fortunate enough to see our fine wing half in his almost 250 appearances in claret and amber.
He joined Motherwell in 1956 and stayed through the inspirational Ancell Babes era until he left to join Hamilton Accies in 1965. His craft in the middle of the park was recognised by the award of five international caps that included the infamous 9-3 defeat at Wembley.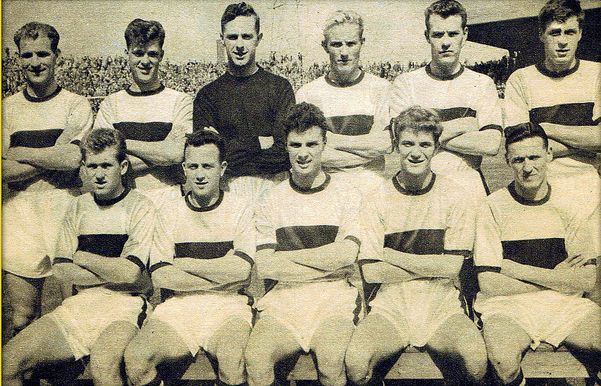 Standing :- Willie McSeveney, Hugh Strachan, Hastie Weir, Aitken, John Martis, Bobby Roberts,
Seated:- Young, Pat Quinn, Bert McCann, Willie Hunter, Andy Weir
Initially he paired his contribution to football with study at Edinburgh University but his skill and leadership eventually earned his the captain's armband. He played alongside some of the finest footballers to who graced our club.
When the club organised a Greatest Team event ten years ago he was included as the player with number 6 on his shirt. In a subsequent interview he said,
"This is the greatest honour of my professional sporting life, because Motherwell is a terrific club with wonderful supporters. One of my favourite memories is the 5-2 match against Rangers in 1961 when there were 85,000 people there — it was the replay of a Scottish Cup game we'd drawn 2-2 at Fir Park, and we went to Ibrox and beat them in what was perhaps the greatest game that Motherwell played when I was captain. I was honoured to be alongside Willie Redpath and Bobby Watson in the top three for my position and I said to myself, 'these guys were terrific players and if they're selected in front of me, fine,' so to be selected from that is just fantastic. The greatest team is a terrific side, but I bet I could sit down and choose another 11 with none of those players in it that would be just as good."
Bert McCann died on 12 September 2017 just a month short of his 85th birthday and his funeral will take place at Mortonhall Crematorium tomorrow (Thursday 21 September at 2pm.