Motherwell fans are having a tough time reconciling this season's poor start with the sprinkling of success our cup exploits delivered a year ago. Maybe a look back will add some perspective.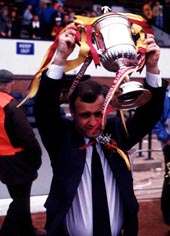 While Tommy McLean is rightfully remembered as one of best managers in the history of the club, it should also be noted that some of his campaigns were distinctly grim.
In 1988/89 it took an astonishing 17 attempts before Motherwell managed to win a match in the league although there was at least some small consolation in the form of a League Cup win over Airdrie in the meantime.
Eventually Hearts were beaten 2-0 at Fir Park (goals from Cowan and Kirk) and despite the poor start, the woeful performance of Hamilton over the entire campaign ensured Motherwell survived in the Premier League.
The failures in the first 16 games were as follows:
Hibs (a) 0-1
Dundee (h) 1-1
Hamilton (a) 0-1
Rangers (h) 0-2
St Mirren (a) 0-1
Dundee United (h) 1-2
Celtic (a) 1-3
Aberdeen (h) 1-1
Hearts (a) 2-2
Dundee (a) 1-1
Hibs (h) 1-1
Dundee United (a) 1-1
St Mirren (h) 1-2
Rangers (a) 1-2
Hamilton (h) 1-1
Aberdeen (a) 1-2
That horrible run of 9 losses and 7 draws ended at the end of November. Yet the manager had the core of the squad that would lift the Scottish Cup a couple of seasons later.
We live in hope.