Motherwell edged past Livingston 2-0 in their second warm-up match at the Tony Macaroni Arena on a damp and chilly evening.
We set up with Heneghan, Dembele and Dunne at the back, five in the middle with Tanner supporting Fisher in attack. Livingston, head to toe in purple, had the better of the opening exchanges but the first real chance fell to the men in claret and amber (all of whom wore their shirts outside the shorts!)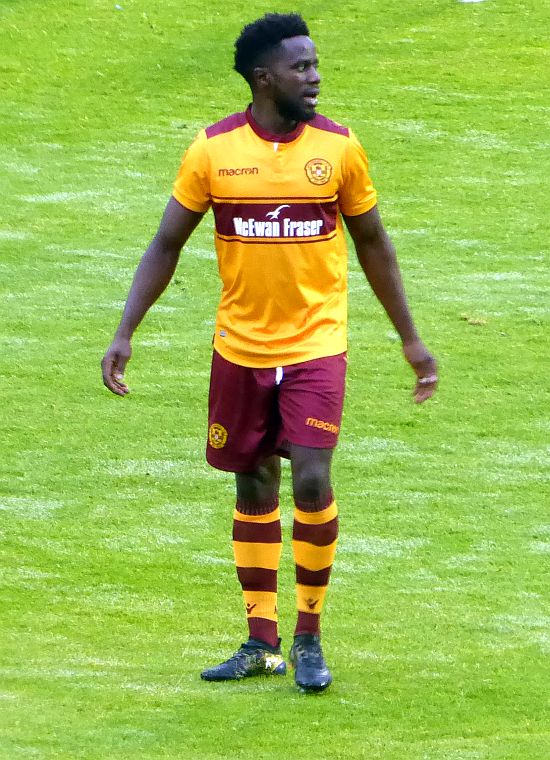 A fine opening goal for Gael Bigirimana
In 17 minutes we constructed a fine move begun by a lovely turn and pass from Tanner to the well positioned Bigirimana on the right side of the box. His low cross gave Fisher a free hit from 8 yards but the ball finished high in the stand.
Rose followed that up with a fine low drive from 25 yards but a slight deflection delivered a corner.
Livingston wereproving to be much stiffer opposition than the Binos provided in the first friendly and Griffiths was tested a few times. He had to be at full stretch just before the break to tip a dipping effort from Know over the bar.
We scored in the last action of the half. Bigirimana started a run into the box and exchanged a one-two with Tanner before forcing the ball around the grounded 'keeper.
Bigirimana, Dembele and Dunne made way at the break to be replaced by Hammell, Kipre and Tait.
With little happening after ten minutes Robinson sent on Bowman and Tuton for Fisher and Tanner and we stepped up the pace. Heneghan was next to go as McManus was fielded. The second half fragmentation continued as McHugh and Rose left for the appearance of Gordon and Campbell.
Tait's work up and down the left wing underlined how much we missed his presence at the end of the last campaign and Cadden showed his usual willingness and energy.
The substitution merry-go-round ended when MacLean came on for Cadden then McMillan for Frear with 10 minutes still on the clock.
MacLean gave the 534 Motherwell fans reason to warm themselves in the chilly night as they appauded his long range shot that tested Maley.
Bowman pt a comfortable gloss on the score with his close range finish as the match drew to a close.
Team: Griffiths, Bigirimana, Heneghan, Cadden, McHugh, Frear, Rose, Dembele (t), Fisher, Dunne, Tanner
Subs: Morrison, Hammell, Tait, McManus, Bowman, Clay, Kipre (t), Campbell, Thomas, Tuton (t), McMillan, MacLean, Gordon
Livingston 0 Motherwell 2
Attendance 824 (523)
4 July 2017