In the end it was a comfortable stroll on the Hampden turf as Motherwell romped to a 5-1 win over Queen's Park. Although the teams were level at the break, four second half goals sealed a 5-1 triumph.
After an indifferent first half the Premiership side showed an ability to finish and made a winning start to Group F of the Betfred Cup. There was the bonus of a surprise appearance of Moult too..and he scored a cracker!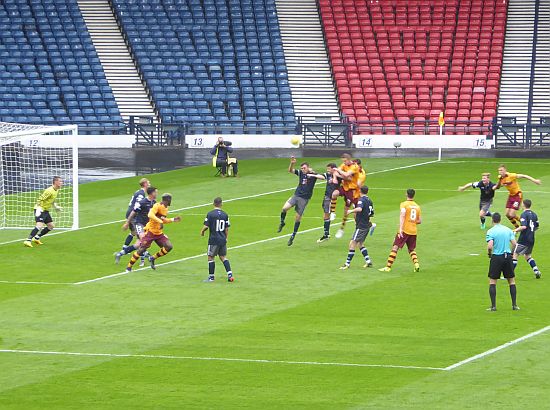 We lined up with five making their first competitve starts in claret and amber. In front of Carson were Kipre, Heneghan and Hammell. McHugh sat behind Tait, Cadden,Bigirimana and Frear. Tanner played behind Fisher in attack.
Motherwell took the lead after ten minutes when a Hammell free-kick was controlled on Fisher's chest. The ball fell for Cadden and his shot from the angle of the six yard box slammed into the net.
We were dominating the play but let Queen's back into the game after 23 minutes. Heneghan's attempted to clear a set piece delivery but his head looped the ball towards goal. Carson goat a hand to it but Cummins powered forward to head the goal on the line.
The goal gave the home side a big boost as it had looked more likely that Motherwell would add a second. The rest of the half was a much more even contest.
An quick goal in the second half was needed and it wame when Bigirimana poked the ball through the D. Tanner pounced and found the corner of the net.
With confidence restored we regained control and passes started to flow. Rose replaced Bigirimana on the hour. Frear was well supplied and he delivered a few tempting crosses. Bowman replaced Fisher in 67 minutes.
The substitute striker got a gift in 74 minutes when McHugh sent a ball into the box from deep. Bowman had timed his move through the defence before side-stepping the 'keeper and rolling the ball into the empty net.
Huge cheers from the travelling fans had hardly subsided at the appearance of Louis Moult for Tait when Kipre served us a second for Bowman as the defence continued their slumbers. The striker finished with a lob. Queen's were now in disarray.
A free kick 25 yards from goal came in 85 minutes and up stepped Moult. He lashed the ball into the postage stamp corner - cue another hearty cheer for our talisman.
Team: Carson, Tait (Moult 73), Hammell, Heneghan, Bigirimana (Rose 60), Cadden, McHugh, Frear, Fisher (Bowman 67), Kipre, Tanner
Queen's Park 1 Motherwell 5
Attendance 1,590
15 July 2017