There was much to cheer as Motherwell players and fans celebrated the comprehensive victory over Aberdeen on Saturday. We had to bounce back from a horrible defeat, overcome the loss of key players and take on a team preparing for a cup final. And we succeeded.
Without Carson, McHugh, Bowman and Cadden in the starting eleven we saw an very different team in claret and amber. There is no doubt that everyone in the home stands would have accepted a point as a decent outcome as Turnbull got the game underway.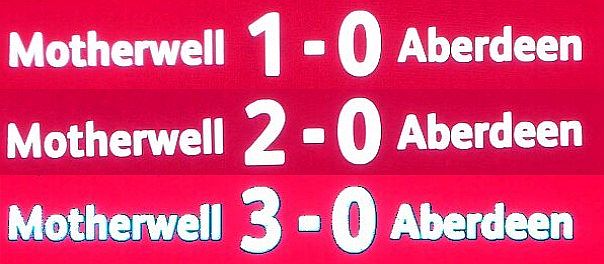 There is no doubt that Aberdeen were a disappointment to their fans but that hardly undermines the fine showing by our side. Mark Gillespie and Christian Mlumbu stepped up and looked comfortable in their first league starts. With a couple of defensive suspensions (McHugh and Hartley) to be served next week we can be more than content with the replacements.
Johnson and Turnbull deserve praise for their goals but the contribution of Main played a huge part in our success. Grimshaw had one of his top performances for the club. He popped up in every corner of the pitch and his energy was valued both in attack and defence.
There was hardly had time to enjoy the post-match high before attention was drawn to the Scottish Cup fourth round draw. Twenty two balls had been pulled before we learned that Ross County are to stand in the way of progress to the next round.
Any home draw is to be welcomed and for the first time in a dozen knockout ties we face a team from a lower league. Nevertheless, Ross County are currently in second position in the Championship and we will have to be at our best to retain a chance of repeating last season's journey to Hampden.