Stephen Robinson's men had plenty of time to consider their poor showing at Stair Park as the team bus made its way back to Motherwell. Now it's time to look forward to the visit of the group leaders on Tuesday.
The 'Well fans who made up the majority of Saturday's crowd also had to face the long trek home with plenty of time to analyse the team's performance. The discussions were not cheery chats.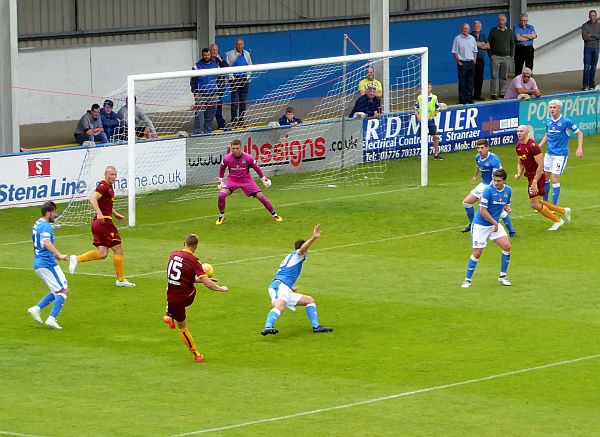 No goal for Rose
Despite the manager's pre-match promise to field a stronger team than that which scored five against Edinburgh City, the boys in the claret away strip looked like a group of strangers thrown together for a bounce game.
Carson saved us from the embarrassment of a loss to the League One side but none of his team-mates rated a pass mark. We had no rhythm and looked disjointed. The early loss of Dunne didn't help and the resultant placement of McHugh in the middle of the back three did not strengthen our defence. Kipré and Hartley are still short of match fitness but the opposition players are also in pre-season.
Cadden started in the centre of midfield but we missed his pace on the flank. Frear supplied the wide threat when he came off the bench but by that time we were under pressure.
The post-match interviews all reflected the view that we were not good enough. There was a commitment to improve on Tuesday.
Queen of the South have played three, won three and scored twelve without loss. They lead the group but we can snatch top place if we beat them and gather a further three points against Clyde on Saturday.
A huge improvement will be needed if we are to overcome Gary Naismith's team but it is exactly the type of challenge we need as we prepare for the start of the league season.