Motherwell fans have had a superb start to the season. From late summer till the end of autumn the team delivered far, far more than we had any right to expect. While the bubble may not have burst, we may be spotting signs of a slow leak.
As Stephen Robinson completed the squad's transformation we were boosted by the retention of Moult and Cadden but the influx of new blood offered some uncertainty about our prospects. None of the Fir Park faithful could have predicted that we would start with 13 wins, 2 losses and 1 draw. Third in the league and in a cup final as Halloween approached? You're having a laugh.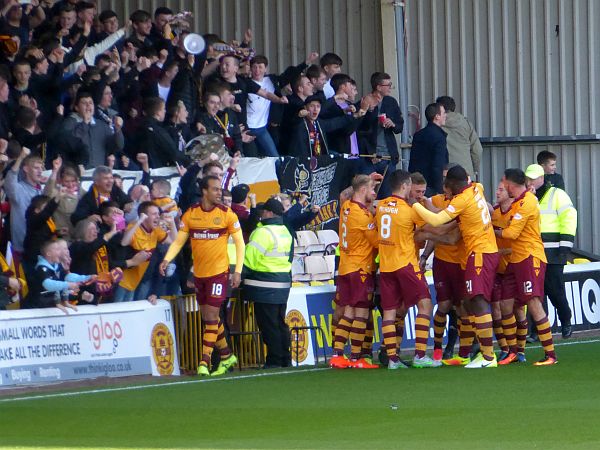 Lots of celebrations this season
The last two outings produced one goal defeats to Hibs and Ross County. It's hard to be too critical of the dip but those results have to be seen in the context of the brutal month ahead. It is doubtful if any team will face a run that compares to Aberdeen (a), Celtic (Betfred Final), Celtic (h), Celtic (a), and Hearts (a).
In the post-match interview in Dingwall Keith Lasley stressed the philosophy that is drummed into the team, "We want winners in that dressing room". That aspiration will face a huge test in the next few weeks. Will we be chasing the teams above or will we be casting nervous glances down the table?
None of that should take the shine off the League Cup final. The players have earned the right to enjoy a day in the limelight and they have delivered a great day for the fans, regardless of the outcome. At long last we have the help of a cup run to aid the club's finances and a tilt at glory – see you at Hampden!