The manager has made it clear that he has to lift spirits and ensure that the team in claret and amber is in the right frame of mind when they leave the dressing room for this encounter. Although he stated that a draw would be a better result for us than it would be for them he made it clear that we are capable of winning the game.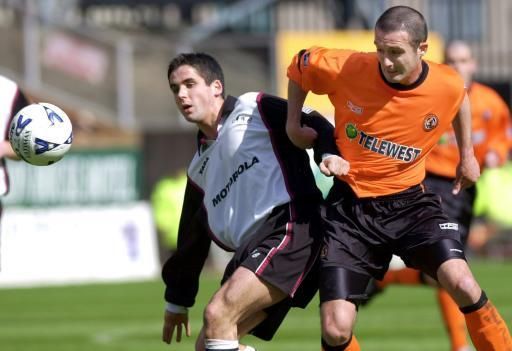 Lasley should be back - he looked different in April 2001!
Recent form suggests that we are in for a tough time. United have lost only one of their last five and that was against Celtic Our slump has a run of five losses broken by a single draw. No wonder the bookies favour the home side.
Paateleinen has described all of his team's remaining matches as "massive" but given that they are a dozen points adrift this meeting with one of their target teams has to have extra significance.
Pearson will serve his one game suspension but Lasley should be available after sitting out on Saturday. McGhee remarked last week that he thought Hall would be fit for this one and if so he will resume his partnership with McManus.
Travelling fans will be curious to discover whether we start with one or two in attack. The manager's recent tendency to leave our top scorer on the bench has caused more than a little concern with the Fir Park faithful.
Our opponents are nearing the point of no return and that may encourage some careless forward play. If we can take opportunities to play on the break we may stop the rot with a 2-1 win.
Remember our last trip to Tannadice?