Tam Cowan was the perfect host and he set a great tone for the evening, encouraging the audience and guests with his usual style. For most of the fans present the 1991 final was the greatest day in their many years of support for Motherwell and they valued the chance to listen to the manager, winning goal scorer and captain from twenty years ago.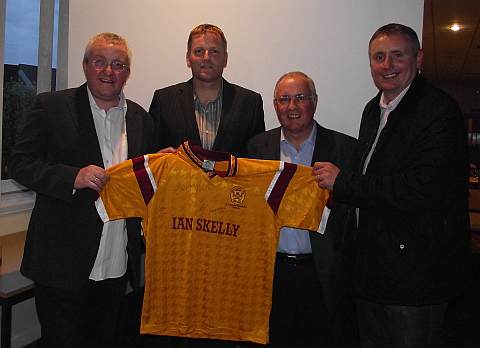 While much of the evening looked back to 18 May 1991, there was plenty of discussion about the forthcoming trip to Hampden and many tales of fellow players.
Stevie Kirk let it be known that he was raging that Phil O'Donnell didn't prevent Alan Main's last gasp long kick in the final minute of normal time, that his decision to leave Motherwell for Falkirk was the worst decision he ever made and that he loved to play against Celtic.
Tom Boyd's lasting memory of the '91 final was the terrible thought that the team had blown their chance when the late goal was conceded. His advice to the current squad is that they should "have a go at the Celtic defence" and he revealed that he had talks with Brian Clough but turned down a move to Nottingham Forest befor he left Motherwell.
Tommy McLean talked of the overwhelming feeling of relief that came with the final whistle in 1991. He explained why he left after ten years in charge and that he turned down Aberdeen's approach that would have seen his step into Alex Ferguson's. He and Kirk exchanged quips all night long and he explained why he preferred Paterson over Philliben and Ferguson over the super sub when he made the decision on the morning of the final.
All three agreed that the SPL should be enlarged and that a return to a ten team league would stifle the development of our young players.
On behalf of the Trust, Philip Speedie thanked all concerned for making the evening a success and encouraged attendance at the next event – the pre-Final Party at South Dalziel Studios.