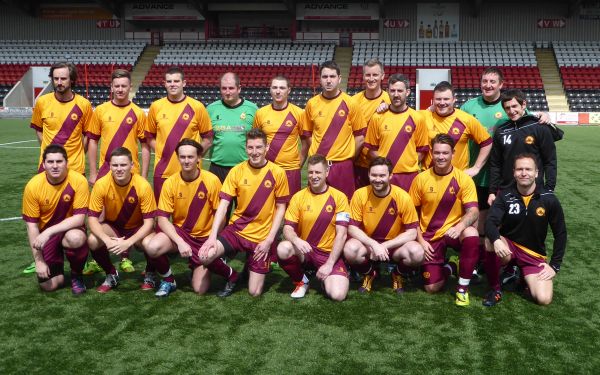 The cup winning squad before kick off
The game was played in a sporting atmosphere and was a credit to both sides.
Troon kicked off but FirParkCorner showed their attacking intent with a shot on target inside the first 30 seconds. The game settled down and half chances arrived at either end. FPC had a couple of free kicks in dangerous positions but the opportunities were squandered as the ball flew into the empty stand behind the goal. At the other end Troon forced a couple of corners.
Pate's lob beat the 'keeper but cleared the bar before an almighty scramble in the Troon box following a corner. Attackers and defenders threw themselves at the ball as it was loose inside the six yard box. But the action was soon at the other end and Gilbert turned and shot low beyond Farmer to give his team the lead just before the half hour.
FPC reacted well and finished the half the stronger team. Fraser blasted over the top but the reward came in 35 minutes from a corner. Pate headed a looping effort to the top left corner with Queen unable to clear. 1-1 at the break.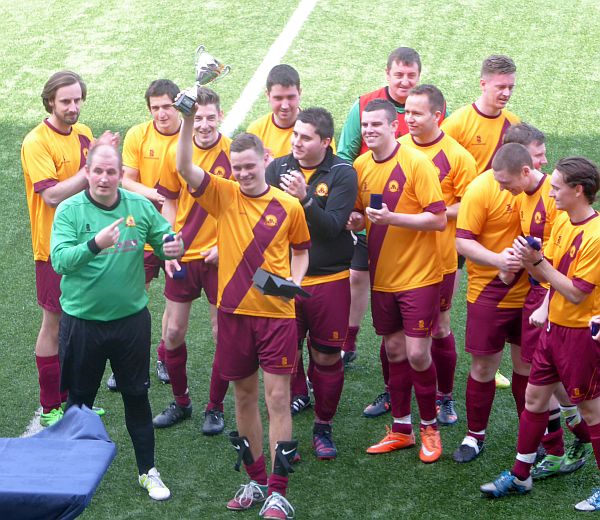 The winners!
Both sides made substitutions as legs began to tire but FirParkCorner looked the more likely to score. The winner arrived in the 70th minute following a throw-in level with Troon's 18 yard line. Wedlock pounced and finished from close range.
Troon pushed to save the game and it looked like an equaliser when a frantic bagatelle was played out in front of Farmer's goal but a hefty boot sent the ball to safety and the game was won.
Handshakes were exchanged and players received their medals on the pitch. The FirParkCorner boys lifted the trophy and a night of celebration lay ahead.