That was a big win on Saturday. The team overcame the randomness of that awful surface and fought back well to take three points. It will deliver a huge boost ahead of the upcoming semi-final when we can return to proper football on grass.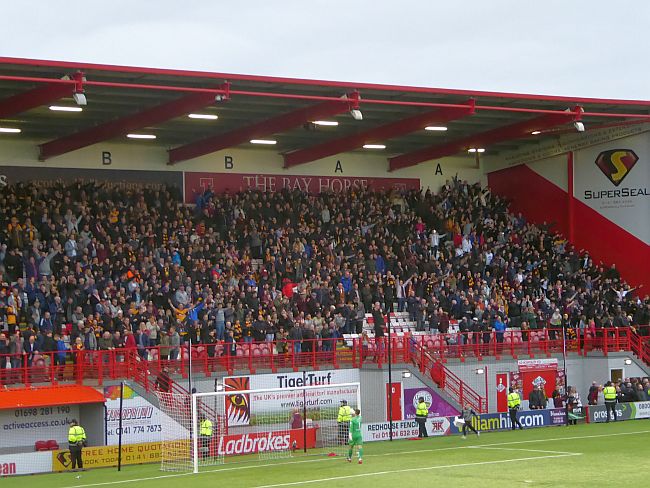 Carson greets the crowd
It must be a horrible experience for Hamilton fans who have to watch two teams struggle on that pitch every other week. Defences are uncertain of the bounce so they adopt the safety first option and hoist the ball far away at the earliest opportunity. Forwards and midfielders don't appear to fare much better as they try to control the ball and fashion chances.
The manager acknowledged that "the pitch reduces things to a scrap and a battle" but he was delighted at the reaction of the players and felt that the win would come even after the loss of the first goal.
The margin of the victory could have been larger. Good goalkeeping and the thickness of the woodwork came to the Accies' aid and the match statistics back up Robinson's claim.
Bowman has earned growing recognition of his contribution as the season has progressed and he delivered another fine performance. Moult will be disappointed that was not able to convert any of his chances but his willingness to chase and assist others was a key component in our attacks.
Cadden and Campbell were not afforded the luxury of a fortnight between games as they played in both Scotland U21 games in the break but they will be glad of some recovery time before starting preparations for Sunday's game.
Rose and Hartley got the goals and our competitors will be reminded that we are not completely dependent on our number 9.
In his post-match comments Stephen Robinson revealed that he hopes that a few more of his squad might join Allan Campbell in extending their commitment to the club. In particular he suggested that the conversion of Peter Hartley from a Blackpool loan player to a permanent signing is a possibility.