Red cards have cost Motherwell dear of late. Our last two matches at Fir Park have been lost as the burden of playing with only ten men has taken its toll.
Whether the fury unleashed by Mark MGhee's post-match tirade in the wake of the defeat to Hearts was justified or not, we must end this destructive habit. His intention is to return to the Disciplinary Tribunal for another appeal. MFC TV included these considered phrases, "ridiculous decisions..I'm convinced it's never a sending off...McDonald's (against Rangers) was never a red card in a million years...Carl's was never a red card".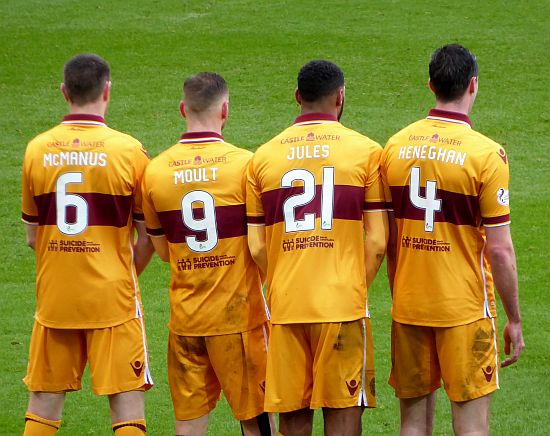 Few who saw the game would have agreed with the manager's comment that he was delighted with the performance. The loss of McDonald led to the pairing of Moult and Ainsworth as our strike force but the combination was not effective. How can we hope to win a game with only one shot on target?
There's no doubt that Hearts had a huge amount of luck with the opening goal. The wicked deflection off Lasley looped over Samson to give the visitors the decisive first goal against the ten men. At that stage of the contest most of the play was in our last third and in those circumstances any shot into a busy penalty area has the potential to end up in the net. There were few similar situations at the other end.
Zak Jules looked like a good acquisition. He has all the physical attributes needed for a defender and although a few touches went awry he will surely deliver more when he reaches top fitness. Pearson slipped into the game as though he had never been away. He came close to a equalising header after a powerful surge into the box but Cadden's cross was just out of reach.,
With no interest in the next round of the cup the squad has ten days to prepare for the trip to Pittodrie. Will we see the return of Blyth?