It was a draw that had one set of supporters trudging out of the ground feeling robbed while the other remained in the ground cheering their heroes and singing their praises. Fortunately it was the 900 Motherwell fans who were smiling.
What impressed most was the spirit shown by Robinson's team. Many in the away section felt that last season's team would have succumbed to the two goal deficit but for the first time in a few years we have a squad with enough depth to give the manager in-play options. Once again his substitutes made huge contributions to the game. Tanner's delivery set Moult up for his first and Bigirimana's pass gave him the chance of the second.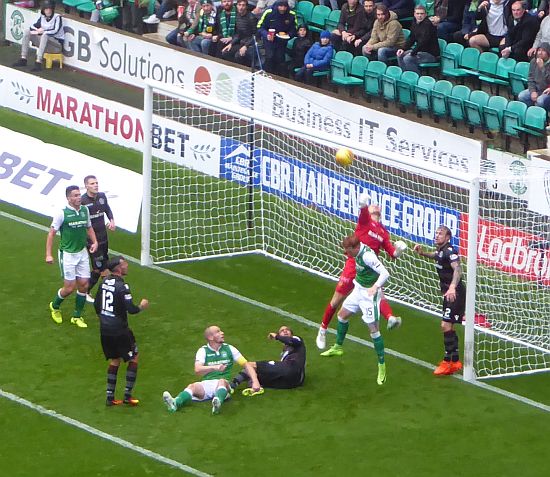 Carson punches to safety
However, numbers alone cannot explain the positive attitude and self confidence that has set us on this unbeaten run. Is it that we have a group mainly in their early twenties fighting to establish their careers? Could it be that the manager and his back room staff are able to unlock latent talent?
Whatever the secret those lucky Motherwell fans packed behind Marciano's goal in the second half were treated to a wonderful Moult double and their joy was unconfined.
After the match Lennon berated his side but Robinson suggested that he had seen our best performance of the season and claimed to be a little bit disappointed that three points were not won.
The focus now turns to the double against Aberdeen. The Betfred Cup quarter final is on Thursday evening before Sunday's league clash. Both games will be broadcast live and if the level of entertainment comes close to Saturday's offering at Easter Road the audience will be well satisfied.
Volunteers Wanted
The Well Society
As part of our fundraising efforts a bucket collection has been arranged for the League Cup Quarter Final match against Aberdeen on Thursday the 21st September.
With the ticket prices being set at a fantastic £10 for adults and £5 for kids, and a large crowd expected, we hope that fans will decide to donate to the Well Society on the evening, and help us take advantage of this year's Double Your Money offer in the process.
To ensure success, we need a few volunteers to be around the ground collecting money before the match. If you are interested in getting involved please drop us an email at well.society@motherwellfc.co.uk.