There are times when an international break is seen as an annoying block to the progress of a team on form. This upcoming diversion from the domestic game will come as a relief at Fir Park.
The manager and players were quick to grasp the only possible positive spin from the draw with Livingston - we stopped the rot.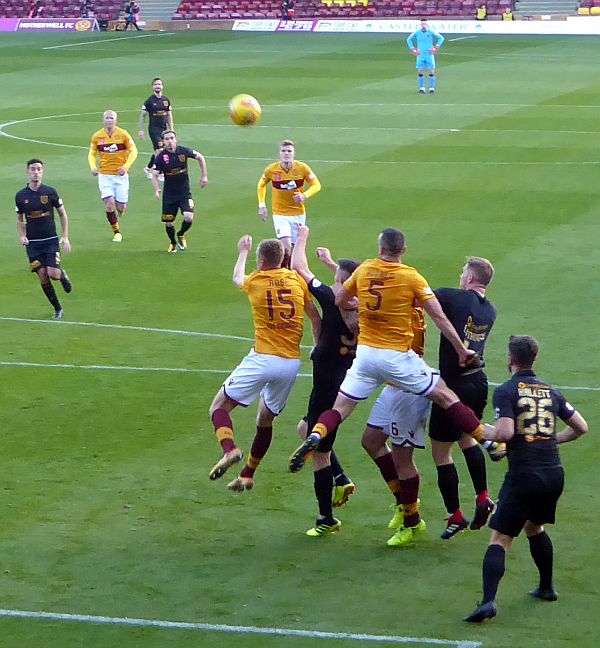 A typical scene - ball in the air
Saturday's game completed a trio that saw us score what has often been described as 'the crucial first goal'. Our inability to build on that opening advantage is a weakness that has to be corrected if our season is to be other than a relegation struggle.
A lack of confidence was apparent throughout the team and it did not take long before the crowd got its share of the jitters. As the game progressed the long aimless clearances and misplaced passes drew boos from the stands. It was not what the players needed.
As the second half developed we fell deeper and deeper in defence and it seemed likely that we would concede. It was just our bad luck that a career best free kick arrived to give our opponents the equaliser.
In attack we delivered one goal with a little help from a deflection but little else. There was no link up play between midfield and the strikers. High hopeful ball were, more often than not, cleared by the defence. We had very little penetration on the flanks and only a couple of shots from distance to rouse the travelling 'keeper.
McHugh was fortunate not to see red following his clash with Gallagher but rather than making the best of the referee's leniency he lasted only ten minutes before he was sent off.
It was a bad day but we did manage to end the losing run and with the help of other results we gain a point over the bottom pair.
A couple of weeks without a match may be just what we need. They can offer a few days off, further time for the injured to recover and a chance to instil some confidence ahead of the St Johnstone game.