Motherwell produced the performance of the season to brush aside Aberdeen and book a semi-final clash with Rangers. A two goal half-time lead flattered the visitors and the game was over when a Moult special hit the net.
Any attempt to pick out any particular Motherwell player would be unfair. Everyone in claret and amber gave their all right from the kick-off as they took charge of the game.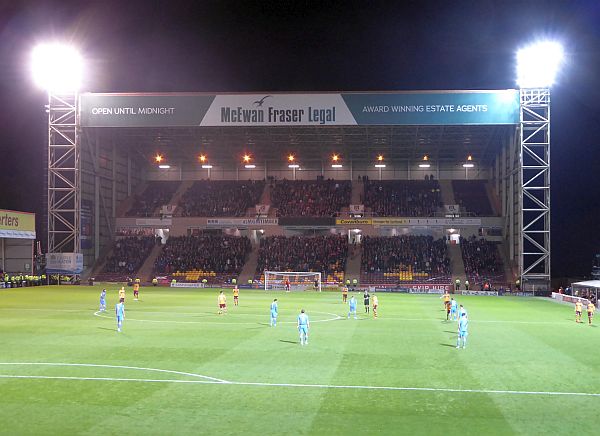 A great night at Fir Park
They pressed, harried and out-fought Aberdeen throughout the game. They pushed forward at every opportunity and supplied an unending stream of balls to Bowman and Moult. Crosses flew in from both wings and Lewis was kept busy.
It was an outrageous overhead flick from Moult that started the rout. Great work from Bowman on the right set up our hero and with a bit of help from Lewis we were one up after 13 minutes.
Aberdeen had no answer and when Hartley converted Hammell's dead ball from close to the corner, we were two up inside 20 minutes. The only question in the minds of the home support was whether our high tempo domination could be sustained. The players delivered.
McInness was forced to hook Mackay-Stevens and send on Rooney 10 minutes before the break in an attempt to turn the game. By half time Carson had yet to make a save as Cadden had produced a fine block of the only shot on target.
Moult started the second half with a couple of early shots and our 'keeper was given a couple of chances to contribute. He saved from Rooney before Christie ran the length of the pitch on the break. Carson was up to the shot .
Campbell, a terrier for 90 minutes, was very unlucky was his drive to across goal failed to cross the line having hit both posts.
In the closing minutes Moult produced a blistering run to collect the ball wide on the right. He entered the box and unleashed a rocket into the net. The South stand began to empty as the home crowd celebrated. Moult was given a standing ovation as he was substituted and the whole team soon had their chance as Motherwell fans stood to cheer them after the final whistle.
The prize for an exhilarating evening is a trip to Hampden at the end of October to battle against Rangers for a place in the final. But there are a few league games before that, starting with Aberdeen (again) at Fir Park on Sunday.
Motherwell 3 Aberdeen 0
Attendance 6,430
Team: Carson, Tait, Hartley, Hammell, Cadden, McHugh, Bowman (Fisher 87), Rose (Grimshaw 70), Kipré, Moult (Tanner 92)
Thursday 21 September 2017