January
As the New Year arrived we were still stunned by the tragedy of O'Donnell's death and games were postponed until the 12th of January when the team produced a wonderful fight-back at Tynecastle to earn a cup replay.We lost at Love Street in the league before McCormack won the replay with at first half penalty.The club announced that the Main Stand was to be renamed in Phil's honour. Long time servant Corrigan moved to Kilmarnock and we learned of a Faddy windfall due to his transfer from Everton to Birmingham.Mark McGhee let it be known that he would remain at Motherwell till the end of the season despite being closely linked with the vacant Scotland job.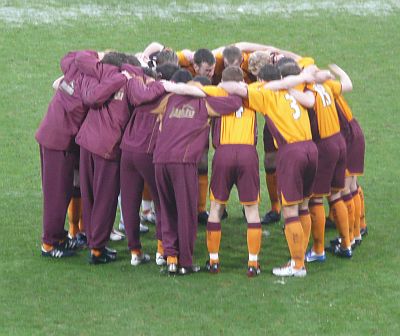 The first game of the year
February
Bob Malcolm joined on loan and caused more than a few eyebrows to be raised.His chequered history still causes heated debate among supporters.At the AGM John Boyle let it be known that our long term future would not be at Fir Park and that the board were starting to explore other options.We left the cup with a poor home showing againstDundee but in the league we had 3 wins, 1 draw and a loss to finish the month comfortable in 3rd place.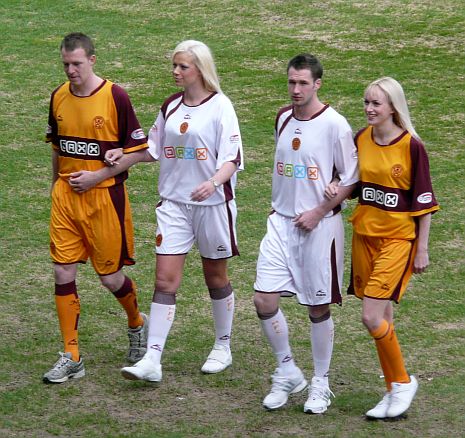 New strips unveiled
March
The embarrassment Motherwell suffered from the poor state of the playing surface came to a head when we lost a gamein mid-March.Compaction of the soil around the undersoil pipes had prevented water from reaching the drains and it seemed that we would have to leave Fir Park for a time to allow for emergency repairs.Our lodgers, Gretna, would also have to move out.It was a poor month on the pitch with only one win against Hibs, two losses and two draws.Our rivals in the chase for third place in the table failed to take advantage and although Dundee United overtook us we still had a couple of games in hand.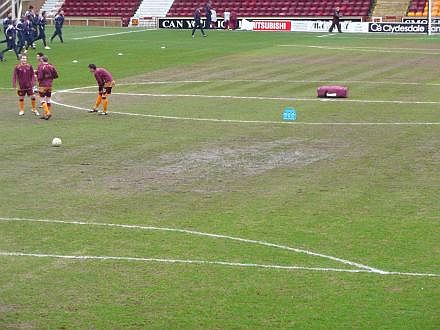 A soggy pitch

April
We played only three games in April and two of those were against Celtic.Lappin scored at Parkheadto give us a rare win in the east end of Glasgow.The victory was all the more impressive as we had to play for forty minutes without red carded Malcolm.Our latest strip, sponsored by JAXX was unveiled and we learned of the return of a Lanarkshire derby when Hamilton were promoted.Tam Cowan and guests entertained a thousand Well fans in the Concert Hall in tribute to Phil.The month ended in a sour note when Quinn's early morning adventure in a Wishaw night spot resulted in a broken jaw.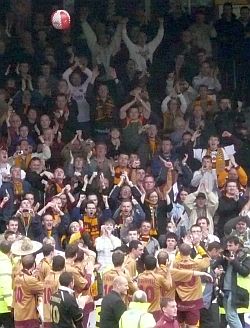 We're going to Europe

May
Motherwell all but ensured a third place finish and a Uefa Cup place when Aberdeenwere beaten 2-1 in front of 8574 fans at Fir Park on 10 May.Prices had been cut to a fiver a heat to encourage a big turn out for the game and there were terrific celebrations at the final whistle.More emotional sceneswere to follow the last home game of the season (1-1 against Rangers).At the end of the month 60,000 paid their respects to O'Donnell at a tribute match for Phil.Mark McGhee had a late change of mind and rebuffed overtures from Hearts.David Clarkson scored on his debut for the Scotland team in Prague.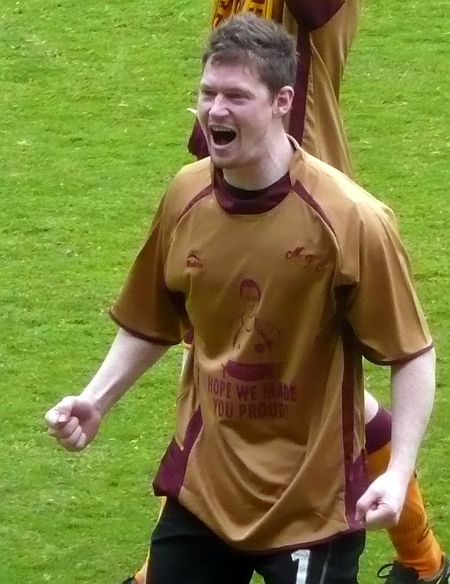 We hope we made you proud
June
The transfer window opened and Rangers made an offer for Reynolds which the club declined.Chris McCart took on the role of head of youth development at Celtic and McCormack left for Cardiff.A new playing surface was laid down but questions remained unanswered as to the state of the undersoil heating system.Anticipation of the forthcoming European adventure was growing and we learned that season 2008/09 would begin at Tynecastle.


Review of 2008 (2) is here.