Two late goals from Rose and Bowman put a kind gloss on the Motherwell 3-2 loss against Gateshead. Still, as they say about friendlies, the result hardly matters.
For this third warm-up game Stephen Robinson gave all of his starting eleven a full hour before sending on three substitutes with another couple appearing for the last 15 minutes. Gateshead replaced their full team at half-time.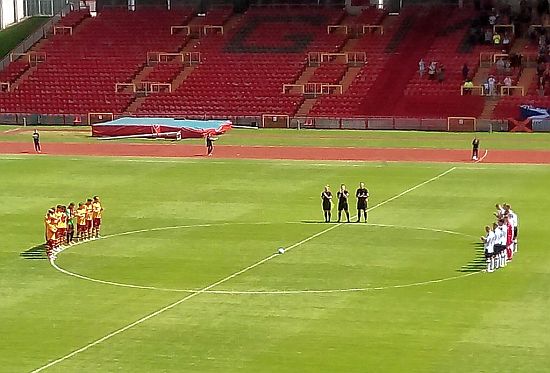 A monent of reflection before kick-off (Thanks to Craig for the picture)
Motherwell kicked off under blue skies in front of a crowd of 533. Bowman led our attack and was soon clean through on the 'keeper. His run was ended by the Gateshead number 4 Bolton and the defender remained on the park only because the game was a friendly. Fisher was high with the resulting free kick.
Gateshead grew into the game and started to make inroads. Preston had a shot followed by efforts from Lamgstaff and Barrow. Tait and Tanner both forced Hanford to save in the home goal.
It looked like a goalless first half but a favourable decision by the officials broke the deadlock in favour of our hosts. Langstaff saw his shot from a tight angle deflected and Tait's effort at a clearance was not successful. The goal was given.
The home side fielded a fresh eleven for the second period but motherwell made no changes. A quick equaliser seemed to be on the way from McHugh's head but a fine save robbed the captain.
On the hour we made three substitutions and before the team had adjusted Gateshead scored their second with a fine 25 yard drive from Green. Worse was to follow. A big deflection off McHugh beat Griffiths as White's 20 yard strike found the net. 3-0.
Two goals were recovered in added time. Bowman, a former Gateshead player, got on the end of Frear's cross to head home. The big striker had several decent chances over the course of the match but this one came too late to alter the result. Rose added another with a simple finish from McMillan's cross.
Next up will be a trip to the west coast on Tuesday when Barrow will provide the opposition for our last pre-season game.
Team Griffiths, Tait (Rose 61), Hammell, Heneghan, Bigirimana (MacLean 61), McHugh, Bowman, Fisher (Frear 60), Dunne (Turnbull 76), Kipré, Tanner (McMillan 76)
Subs: Morrison, Cadden, ,
Gateshead 3Motherwell 2
Attendance 533 (264)
8 July 2017