Motherwell lost 2-0 at Celtic Park conceding a goal in each half. We defended well for the most part but created very little. The result drops us to fourth in the league.
With Liam Donnelly suspended and Peter Hartley indisposed Stephen Robinson was forced to field a much altered Motherwell side. Bevis Mugabi, Barry Maguire and Richard Tait were introduced. Jermaine Hylton was benched.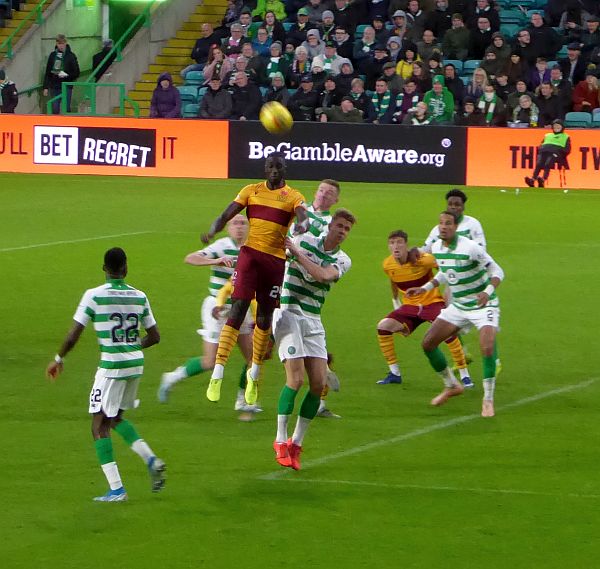 The tone of the match was set right from the kick off. Celtic held possession in our half and passed around looking for a chance to breach our defence.
Goal scoring opportunities were restricted by Motherwell's well organised formation at the back. Declan Gallagher, Bevis Mugabi and captain Richard Tait formed a three man central defence aided by Liam Grimshaw and Jake Carroll on the flanks. Gallagher had an outstanding game although he will regret the unlucky touch he had in twenty minutes. He got a foot in to prevent a shot but the ball fell to Eduoard twelve yards out. The on-form striker fired high beyond Gillespie and that effectively ended the contest.
To our credit we settled and managed to string together a few decent spells of possession. There was little width in our attack but Devante Cole and Chris Long chased and pressed, unfortunately without reward.
The second goal came five minutes into the second half. Hayes was afforded plenty of space on the left wing throughout the afternoon and the goal came from a teasing cut back that Tait knocked over the line. A cruel own goal gave us an unassailable mountain to climb.
Sherwin Seedorf, Jermaine Hylton and eventually James Scott were given a chance to write some headlines but the unexpected did not materialise.
The international break has arrived and most of the squad will enjoy a few days rest . We remain firmly placed in the top half of the table and in good shape for the rest of the campaign.
Celtic 2 Motherwell 0
Attendance
Team: Gillespie Tait (Hylton 65), Gallagher, Mugabi, Carroll, Grimshaw, Campbell, Polworth, Maguire, Long (Seedorf 65), Cole (Scott 78)
Sunday 10 November 2019