Since Paul Hartley took charge early last year Dundee won the Championship and made an impressive start to the Premiership this season. They were unbeaten after the opening seven matches but in recent weeks they have struggled. Since a win against Aberdeen on 1 November they have returned only three draws and five losses. It can be argued that their confidence is even lower than ours!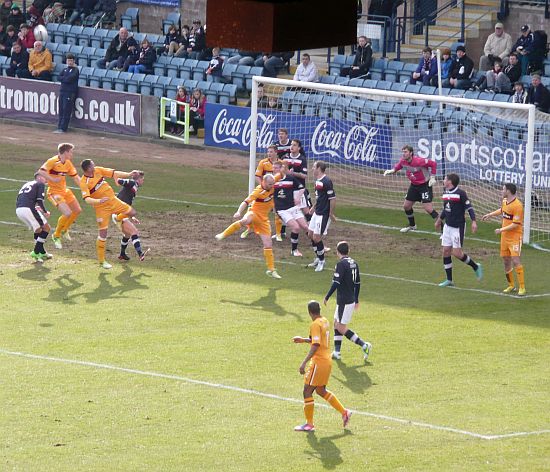 Our last trip to Dens produced a 3-0 win
McPake was injured in Sunday's draw with Ross County and is listed as doubtful. That may give an opportunity for their new Bulgarian signing Gadzhalov to bolster their back line. At the other end Stewart is their top scorer and our old friend Clarkson is close behind. Our former striker grabbed headlines with his scoring feat early in the season. Eight goals (including one at Fir Park that Dundee went on to win 3-1) in the first eight games caused the record books to be searched but that happy run has ended. He has not scored in the last six and we'd appreciate that to be stretched to seven at the weekend.
Our manager is experiencing some of the problems that beset his predecessor earlier this season. The injury list remains depressingly long and we are unable to achieve any consistency of selection. Erwin, Watt and Thomas head the list of young replacements eager to get established and it looks likely that some will see action at Dens.
The success of the McManus appeal will give the squad a boost and give some stability to the defence.
Entry for the game is £20 for adults and £10 for concessions. Travelling fans will hope to see us close the five point advantage Dundee currently hold and some may even return to a tidy profit having invested at 7/2. A 1-0 will deliver.