Motherwell lost to Partick Thistle on Saturday in the first half hour. That was the view of an angry Stephen Robinson after he watched his charges drop to the play-off position.
His disappointment was shared by the many that made the short journey from Lanarkshire.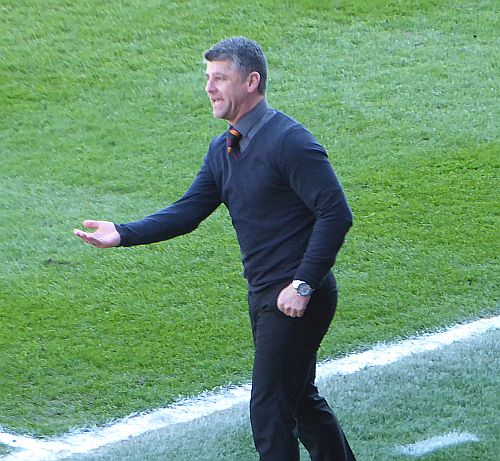 Not a happy man!
It was an awful first half showing and the only surprise was that it took until the break for changes to be made. Although Clay and Frear were sacrificed there were plenty others who might have been invited to take an early shower. We simply failed to stand up to our opponents and let them run the game. We were fortunate to be only one behind at the break.
There was a more determined attitude on show with Ainsworth and particularly Lasley leading by example but although we had most of the second half pressure we rarely looked like scoring. Jules' header forced Cerny into his only save of the day.
The change personnel was combined with a alteration in defence. Although the flat back four was rarely tested the need for the return of our regular full backs was clear. Cadden tried his best at right back and Jules found himself at left back but there will be some relief when we get Tait and Hammell back in the starting eleven.
The longing for a return to action is even stronger for Moult. Although it is hugely unfair to place the burden of league survival on his shoulders there is no doubt that we do not look like scoring when he is missing.
We'll need all hands on deck for the visit of Inverness on Saturday. Motherwell fans have not celebrated a win at Fir Park since mid-November. It's time for that to change.