It must go down as an opportunity missed. With 85 minutes left on the clock Motherwell faced a ten man Rangers but we blew it.
At that early stage we took control and put Foderingham's goal under pressure. It appeared that we might end the long wait for a league win over the team from Ibrox. All that changed with the dismissal of McDonald. The referee's decision to show the second red card of the match will be the subject of much discussion but there's no doubt that our hope disappeared with Skippy as he walked down the tunnel.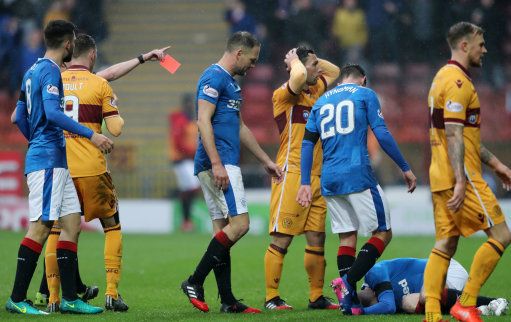 It was a shocking lack of professionalism from an experienced player. The incident took place in front of the dugouts when there was no chance of a threat on our goal. He should have taken care to avoid even a yellow card given the state of the game.
Mark McGhee was surprisingly upbeat after the game. He felt we were the more likely to score in the early part of the game and praised the spirit on show. He argued that our squad is now at its best with the new players joining the returning pair of Blyth an Lucas. "Tuesday night can't come quick enough for me".
It would be surprising if many 'Well fans share his optimism. We have dropped to 10th place in the table, been knocked out the cup (from a winning position) and have won only once in the last seven starts. We had a chance to beat Rangers last week and again on Saturday but failed to get even a draw. An upturn in fortune will be needed soon if we are to keep clear of the bottom two.
Given that our next four fixtures are Ross County (a), Hearts (h), Aberdeen (a) and Celtic (a) it looks like Tuesday's match in Dingwall could be vital. Let's hope the manager's rosy outlook is still evident on Wednesday morning.