Maurice Malpas was always going to take over when Butcher departed to Australia and while some fans expressed concern about his coronation it was widely accepted he had earned the right to try his hand at being number one.The summer was a worrying time for us though as he appointed well known Jonah, Paul Hegarty, as his number two and a worrying lack of incoming transfers did little to settle the nerves.


No left back arrived to replace Hammell and with Scott McDonald being awkward over his future there was a cloud going into the pre-season friendlies.We ignored a dismal run of results in the warm up games and when Rangers visited Fir Park to start the season with the 12.30pm Saturday match, we knew a point would put us top of the league for at least a few hours!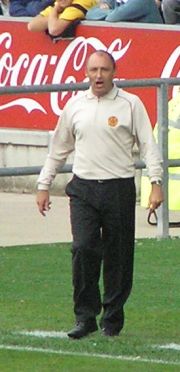 Unfortunately the news broke that Brian McLean was injured and with Corrigan still out the defence took on a real makeshift look.We lost only 2-1 but we were so badly outplayed at times, particularly in the first half, it was hard not to be concerned.The Love Street cursestruck again as a horrific display saw us lose to St Mirren before two goalkeeping errors allowed Aberdeen to defeat usat Fir Park.By the time we travelled to Easter Roadthe fans were already beginning to mumble but at least the signing of Keith Lasley did something to lighten the mood.Hibs thrashed us 3-1 going on ten and we had made our worst start to the season - four losses from four - in over eighty years.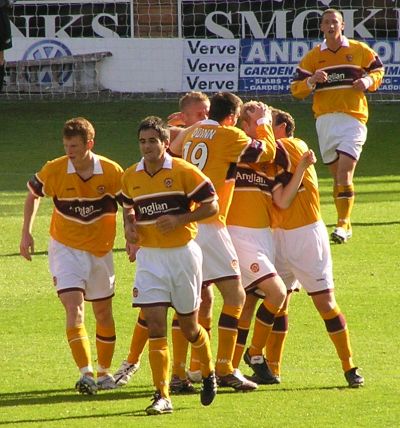 Perhaps the most worrying thing of all around this time was the assertion of Malpas that we had actually been playing well and we were just unlucky.This was clearly nonsense.It is one thing the manager trying to rally the troops and keep heads high but when he comes out with absolute rubbish such as this it does no one any good.Nevertheless we scrapped past Partick Thistle 3-2 in the League Cup before Scott McDonald - returned to the side when it became clear we desperately needed him - gave us our first points of the season with the winner at Falkirk.An international break came at a bad time for us and we returned with a contender for the worst performance of the season when Inverness thrashed us 4-1 at Fir Park.They weren't that much better than us but we gave away goal after goal.Even the emergence of Mark Reynolds in defence couldn't save us as Stephen Craigan's form fell apart and Jim Paterson, despite his heroics, was occasionally looking weak when out of position at left back.


Graeme Smith was dropped for Colin Meldrum and that signalled the start of what was a relatively good run.We were unlucky to lose to Heartswhen only a Craig Gordon wonder save denied us a point before a Richie Foran hat-trick saw us past Queen's Parkin the League Cup.Calum Elliot got his first goal following his loan move from Hearts to secure a point at Tannadice before we had one of those days where everything goes right and we hammered Kilmarnock 5-0.Dunfermline were already becoming the favourites for the drop and we edged them 2-1 with Clarkson getting a late winner.We followed that up with two good performances in Glasgow which brought only one point from a 2-1 loss to Celtic and a 1-1 with Rangers.By the time Meldrum saved a penalty to earn us a point at home to St Mirrenthings were beginning to look up.

We weren't world beaters but the team was working hard and from our last seven games the only loss had come at Parkhead.We were well clear of the relegation spot and we had a cup quarter final at Rugby Park to look forward to.Things were surely beginning to go right.Or were they?