It is fair to say the Motherwell's 2018 Scottish Cup campaign started in low-key fashion. November's draw delivered Hamilton at home and pleased no one – not the day-time drinkers, ground-hoppers or those looking for an actual game of football. But we were flying high and had the League Cup final six days later. Accies would be put in their place when the time came.
Fast forward two months and the feeling could not have been more different. Our post-League Cup final hangover extended weeks after week as the mental and physical price of our campaign to date took its toll. We tumbled down the table, cumulating in a 3-1 home papping to Accies to end 2017 – the fact they had only three shots did not make their victory any less deserved.
The fans had been patient throughout the poor run, rightly understanding that a cup final bought time and our injury situation would have floored every other club of our stature. Patience, however, was coming to an end and a win over Accies was now essential.
Motherwell were without Louis Moult but with newly-added Tom Aldred, Nadir Cifcti and Curtis Main added to the starting eleven. A dream start was made when Accies literally booted the ball into their own goal after four minutes; Ciftci's flick won a penalty lashed home by Craig Tanner and we led 2-0 at the break.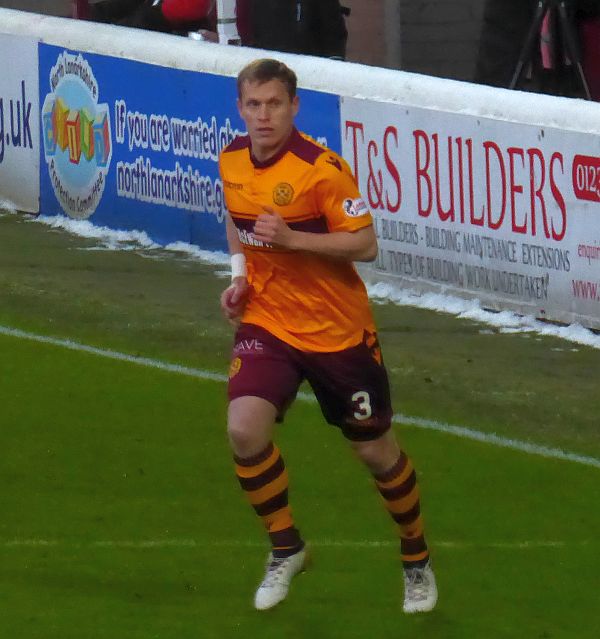 Stevie Hammell - almost a last appearance
We never looked like losing our advantage and a minor injury to Aldred even allowed club legend Stevie Hammell to grace the pitch for the majority of the game as he prepared to hang up his boots.
It may not have been pretty but we had secured the victory needed so badly and the confidence which comes from triumph in a must-win tie. Stephen Robinson had promised everything would be fine after the winter break and he was right.
We lost only one of the next five in the league – by the odd goal at Easter Road – picking up eight points on the way. By mid-February we were effectively safe from the threat of relegation and looking forward to a fifth round trip to Dens Park.
The Road (back) to Hampden - part 2