Motherwell continued to impress with a comprehensive 3-0 win over Partick Thistle at a sun drenched Fir Park. Hartley, Tanner and Bowman were the scorers but all in claret and amber deserve the plaudits.
It was a commanding performance from the home side that ripped the heart from the visitors. Robinson's men won every contest and dominated all over the pristine pitch. In truth Archibald's side were lucky to escape with only a three goal defeat.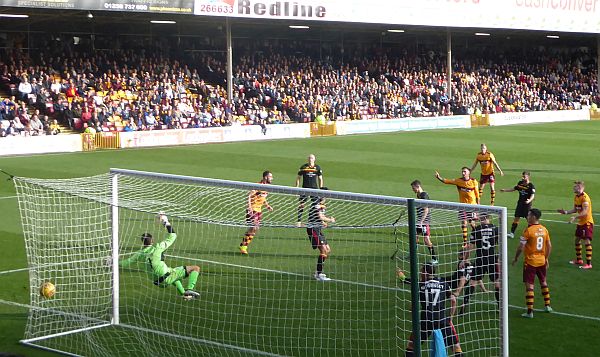 Spot the ball
Tanner was preferred over Bigirimana in the starting line-up and Thistle kicked off attacking (well, facing) the Cooper end. Such was our control of the game that there was no wear on Carson's area of the pitch throughout the game. He didn't have a save to make.
Cerny was lucky to receive only a yellow when he bundled Bowman off the ball outside his area. Moult took the free kick and struck the post. The ball fell to Hartley six yards out and he side footed into the net.
The only surprise in the game was that there was no further scoring until the second half. Wave after wave of attacks flooded into the South stand goal but no goal resulted.
Campbell, McHush and Tanner ruled the centre of the park and Cadden and Tait swept the flanks. Almost every second ball was ours and any threat was swiftly ended. Hartley and Kipré gave the visitors no hope with their powerful clearances.
Good work from Tait on the left side of the box set up the second goal. His squared ball allowed Tanner a close range shot and it crossed the line despite Cerny's contact.
Frear replaced Moult and immediately added a threat from the left wing. He had made a few telling contributions before he delivered a corner with ten minutes remaining. The defence failed to clear, Hartley did well to return the ball from the dead ball line and Bowman placed a shot high into the net.
The players are entitled to a few days recreation over the international break before they prepare for the game at New Douglas Park. Meanwhile the league table makes for pleasant reading.
Motherwell 3 Partick Thistle 0
Attendance 4,692 (775)
Team: Carson, Tait, Hartley, Cadden, McHugh (Grimshaw 83), Moult (frear 77), Bowman, Campbell, Kipré, Dunne, Tanner (Rose 67)
30 September 2017