Celtic wrapped up a seventh successive Scottish title in style at the weekend by thrashing Rangers 5-0 – chat of the unprecedented double-treble will now hit full swing ahead of our May 19 cup final.
It would be churlish not to congratulate Celtic on being on the verge of such an achievement. Not only has it never been done before, only a couple of sides have ever come close.
However, it must also be acknowledged that never before has the gap between one team and the rest been so comically big.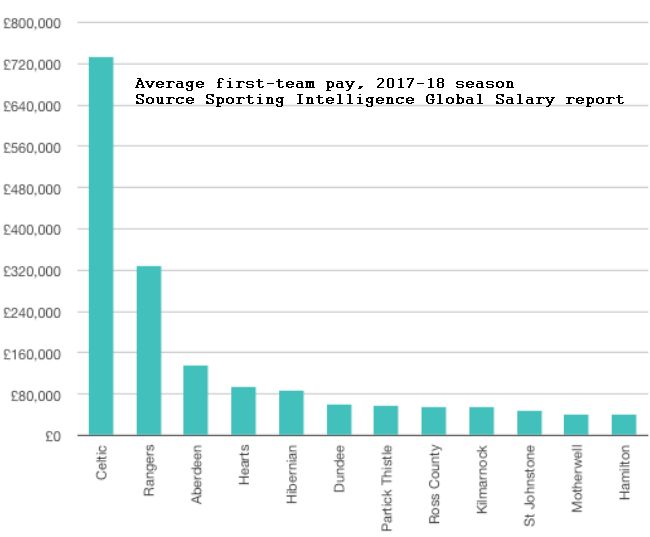 For perspective, the Sporting Intelligence (SI) Global Salary report in 2017, says: "there is less of a resource gulf between Celtic and their 2017-18 Champions League group stage opponents Paris Saint-Germain than between Celtic and most clubs in their domestic division."
Celtic, should you need reminded, were outgunned 12-1 over two games by PSG.
With a wage bill topping £40-million, Celtic spend more than 17-times as much on their first team squad as we do. PSG spend 'only' 8.8-times as much as Celtic players, according to SI.
Are Celtic 17-times better than us? Probably not. Over the four meetings between the sides this season, no neutral observer would say so, in fact.
How good they are in the grand scheme of Scottish football is an amusing but irrelevant pub debate (likely top 10 post-War but not much better would be my guess, for what it's worth). What matters is not the absolute level of a team but its ability relative to the opposition – and in that regard this Celtic team is unmatched.
Spending money is a safety net. If two clubs get roughly the same return per pound of investment, the one which spends more will do better.
According to SI, Celtic spend more than twice as much as Rangers and 8 per cent more than all non-Old Firm clubs combined.
Clearly some clubs – such as Motherwell this season – overachieve compared to what they spend and Celtic are visibly poorer than they were last term despite spending more money.
This is where the safety net comes in. Bridging the gap between our squads likely requires our players to hit their absolute full potential while Celtic are not only poor collectively but are not rescued by an individual moment of magic.
Celtic have dropped points 12 times this season but a regular league game cannot be compared to a cup final. When they played us in March, not only did they not beat us after Cedric Kipre was sent off in the 40th minute, they rarely looked bothered about it.
Similarly when they lost at Kilmarnock in February, they were concluding a run of Saturday-Tuesday-Saturday-Tuesday-Saturday games shortly before facing Zenit in the Europa League. They took one look at the Rugby Park pitch and were mentally back on the bus before kick-off.
In Scottish Cup finals since 2000, the Old-Firm have faced the rest 12 times and lost just once (First Division Rangers fell to Hibs in 2016). The League Cup offers little more hope with only Kilmarnock mugging Celtic in 2012 from 11 attempts.
Celtic, since 2000, have won 14 of 18 finals with three losses to Rangers joining their slip against Killie.
This is entirely expected. While winning the cup may mean more to provincial players, there is no question of Celtic not being up for a Hampden final. They will never phone in a performance as they did in the league at Rugby Park or Fir Park and with their attitude correct the difference in quality they've bought usually does the rest.
So the case for an upset seems hopeless. Let's be thankful Stephen Robinson and his players are unlikely to spend too much time reading balance sheets.
Read more about Motherwell's Scottish Cup adventure here: 2018 Cup Final