Today is the 27th anniversaryof a brilliant Tommy Coyne hat-trick at Rugby Park. The Cobra thrilled us on many occasions between 1993 and 1998 but many remember his part in this 4-2 victory with particular affection.
Coyne was signed by Tommy McLean for £125,000 in 1993 but this match in rainy Kilmarnock had us under the charge of Alex McLeish. Our man had just recovered from a series of injuries and this encounter produced three of his 59 Motherwell goals to move us up the table.
John Philliben's 50 yard cross field ball to Andy Roddie set up the opener. A squared pass gave Coyne an easy finish.
Thanks to gobstopper68 for uploading the video
The score was unchanged until we were the beneficiary of a controversial back-pass decision from referee Andrew Waddell a few minutes into the second half. Kevin McGowne sliced an attempted clearance high and Colin Meldrum caught it. John Philliben cared not a jot as he blasted the tap from the six yard line high into the net for a 2-0 lead.
Paul Wright got the home side back in the match before TC added his second just before the hour. The goal came at the end of a fine piece of play. Billy Davis provided the pass enabling Coyne to convert with a low left-footed drive to the opposite corner.
Killie narrowed the score to 3-2 when Wright converted a penalty in 87 minutes but our hero brought the travelling fans off their seats when he pounced on a defensive slip before lobbing Meldrum from almost 30 yards in added time. Ray Montgomery allowed a throw-in for squirm through his legs and The Cobra pounced. He turned and floated a high ball over the stranded 'keeper. An excellent hat-trick was completed.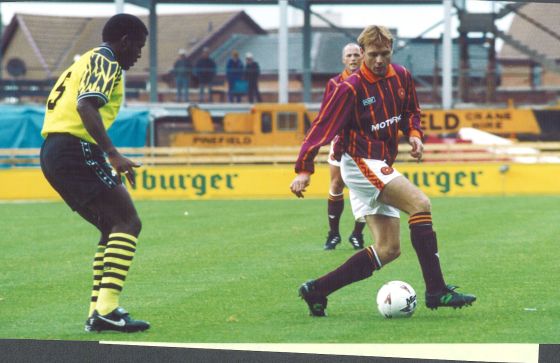 TC in action against Dortmund
Motherwell's team on 16 November 1996 -
Howie, May, Philliben, McSkimming, Martin, McCart, Dolan, Arnott, Coyne, Hendry, Robbie