Louis Moult deserves the praise heaped high by Motherwell fans and this week's POTM recognition is a fitting reward from a wider audience. His success will soon give the fan owned club a tough decision.
On the assumption that a bid will be made for our top striker in the January window the board will have to balance the benefit of a cash injection against his services for a further three months. The argument on either side is finely balanced.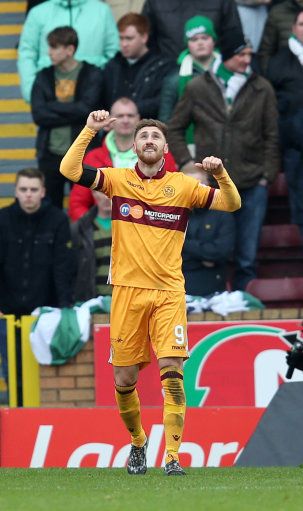 Any discomfort felt by the decision makers should be offset by the realisation that the situation has arisen following a hugely successful signing. Ian Baraclough will be best remembered as the manager responsible for the crucial 6-1 play-off victory over Rangers that ensured our top flight survival but his decision in August 2015 to pay a fee for a relatively unknown 23 year old from Wrexham merits our grateful thanks.
Moult's current deal runs until the end of the season and from the turn of the year he will be free to talk to other clubs and commit to a pre-contract agreement. From the end of the break we have eight fixtures before the league split than another five. So what value do we place on 13 league games (and possible Scottish Cup ties) with our talisman bearing in mind the risk of suspension or injury?
The club has a commitment to pay off loans from John Boyle and Les Hutchison from transfer income and if our league position appears secure there will be a temptation to take a fee. It is an important aspect of our financial planning to develop and sell players.
On the other hand our refusal to accept the bid from Aberdeen in the summer has been justified by Moult's contribution to our early season success. Income from our Betfred Cup exploits will probably match any lost transfer fee and there is no price to describe the buoyant atmosphere associated with the club at the moment.
Any decision that has to be made during the upcoming transfer window will be made with the long term sustainability of the club in mind and that should satisfy the owners. Good luck!