Motherwell started in the heavy rain with three changes from the last outing. Dan Twardzik, who arrived on loan from Dundee in midweek, replaced the ailing Nielsen in goal and the outfield pair of Ainsworth and Anier were preferred to the injured Kerr and Moore.
We dominated the opening exchanges with Hammell's crosses and Ainsworth's threat worthy of note. County came close when Brittain's 25 yard free kick clipped the bar but within a minute our pressure got its reward when Sutton's 20 yard shot beat Fraser with the help of a touch from a defender. Sutton doubled our lead with a header after Fraser stopped Ainsworth's shot.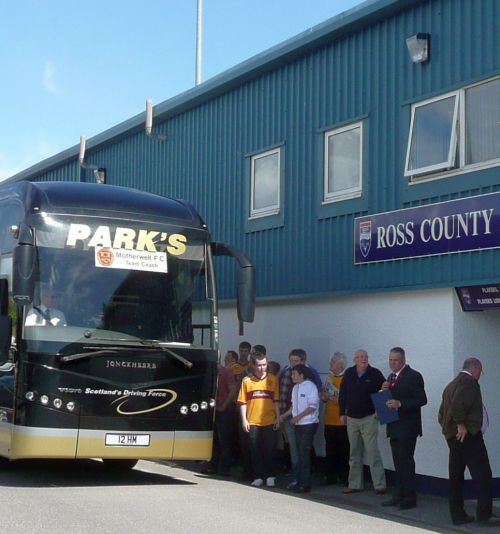 The team bus at Victoria Park last season
We were in complete control and after half an hour Adams was forced to make a tactical substitution to try to alter the flow of play and Luckassen replaced Klok. The change made no difference and we continued to attack the County goal. Ainsworth, Vigurs and Anier all came close and the home defence had to produce a couple of goal line clearances to prevent the loss of a third before the break.
As expected the home side made a determined start as the second period got underway and we were tested. Carswell was booked for a foul on Luckassen, Twardzik had to save from Quinn then Lasley entered the referee's book after a foul on Brittain. After a twenty minute spell of defending we conceded. Luckassen delivered from the right and De Leeuw headed into the net to put County on our heels.
It looked like an equaliser in 67 minutes when MacLean's header beat Twardzik but the referee came to our aid and ruled it out. Ramsden and Hutchinson raised our tally of yellow cards to four as the game entered the final twenty minutes but in a complete contrast to the first half we were hanging on. Moore came on for Anier then McFadden replaced Vigurs but our stand-in 'keeper was kept busy as we fought a desperate battle to keep the lead.
With ten minutes remaining Ainsworth was subbed by Lawson. Our first real chance in the second half followed another let off in front of Twardzik's goal but the ball was swept upfield and Moore had a chance at glory, Fraser tipped it to safety.
We secured our first win at Victoria Park and continued the good record against teams in the bottom half of the table. A few more wins in the holiday period should see us move up a place or two.
Motherwell: Twardzik, Ramsden, Hammell, Carswell, Hutchinson, McManus, Ainsworth (Lawson - 82 ), Lasley, Anier (Moore - 76 ), Sutton, Vigurs (McFadden - 78')