Another poor showing from Motherwell extended the winless run as Kilmarnock, always the most adventurous, earned an easy 1-0 home win.
Stuart Kettlewell turned to the four Bs to freshen the Motherwell starting eleven. Mika Biereth, Shane Blaney, Calum Butcher and Theo Bair were called on as Stephen O'Donnell, Lennon Miller, Callum Slattery and Bevis Mugabi missed out. But the plan (if there was one) fell well short.
It was disappointing to see a team that had played with such fluency earlier in the season reduced to upfield punts at almost every opportunity. The three forwards were easily marshalled by the home defence and Will Denis will rarely have an easier afternoon in goal.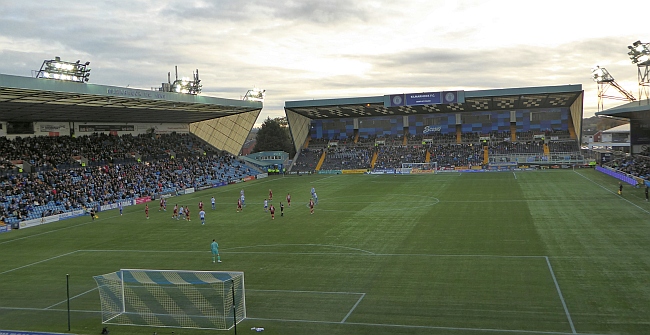 Who needs a big pitch?
There was a rare chance for Motherwell in the opening couple of minutes when Dan Casey sent in a long crossfield cross to Theo Bair. The striker will be disappointed that his header was off target.
Kilmarnock lost Kyle Vassell to an ankle knock after 15 minutes but his replacement Innes Cameron was to make the best of his appearance with the winning goal.
Danny Armstrong was a thorn in the 'Well defence's left flank all afternoon and Broadie Spencer had a hard time trying to cope.
Liam Kelly had a mixed afternoon as he produced three first class reaction saves. However he will not want to see a replay of the only goal of the game.
The 'keeper failed to hold twice and the ball spilled to Cameron for a simple smash into the net early in the second half.
The only thrill for the 600 in the away stand came just before the hour when Paul McGinn pinched the ball with an interception in the centre circle. Head down, he drove forward through the defence and into the penalty area but from his central position his attempt was easily held.
There was no sign of the gung-ho charge that might have been expected. The ball continued to be thrown forward to little benefit and it would not have been a surprise had Kilmarnock found a second on the break.
A trip to Perth lies ahead on Tuesday and none of the Lanarkshire travellers will have any confidence of stopping the rot.
Kilmarnock 1 Motherwell 0
Attendance 5,553 (600)
Team: Kelly, Blaney, McGinn(O'Donnell 79), Butcher, Casey, Spencer, Spittal, Biereth (Slattery 72), Bair(Shaw 7, Paton, Wilkinson
Saturday 4 November 2023