We got all we deserved for the feckless display and hardly had a serious attempt at goal all game. The first half was so poor that a double substitution was needed at the restart – to no avail.
We set out with a more balanced look than in recent game. Reid and Hammell were in natural positions and the tried and tried and trusted partnership of Sutton and Anier lead the line. McFadden was held in reserve on the bench.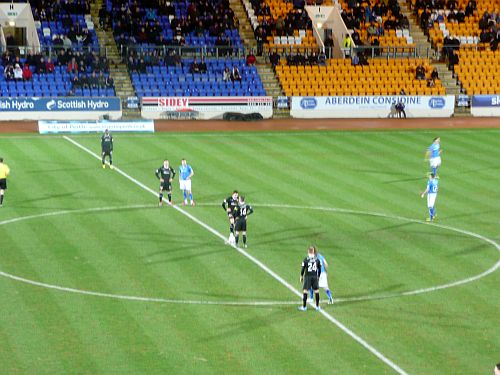 Lasley and Carswell took the kick off and immediately we were under pressure. The Saints camped in our half and earned a couple of corners. The reward for their attacking start came in six minutes when Nielsen failed to deal with a long range shot from May and presented McLean with an easy tap in from two yards.
Apart from an off target effort from Anier we were in full defensiove mode for thenext twenty minutes and the home side continued to dominate. They moved the ball better and always seemed to have a man available. We were reduced to a series of desperate clearances.
Eventually we did break out and Vigurs forced a corner from Mannus following a 25 yard drive. That was not a turning point and we remained second best. More slack defending cost us the second goal in 33 minutes. Easton was allowed to deliver what looked like a speculative deep cross but McLean, the only blue shirt in the box, was able to head beyond Nielson.
The icing on the stale cake arrived as the first half ended. We were awarded a free kick 30yards out on the left wing. All our big men were in the box and the ball found its way to McManus with the goal gaping . he was inside the six yard box and wide but managed to miss the target.
McFadden and Ainsworth were on the field as the second half started with Hammell and Vigurs making way. We were now in full attack mode and the chances started to come. McFadden had a header across the face of goal but there were no takers. Ainsworth delivered a few tempting crosses and there was an urgency that was missing earlier. Naturally, we left space at the back and there was a risk from a speedy breakaway. Nielsen produced a fine one handed save from May.
Iwelumo repeated his infamous trick of missing from under the bar in 70 minutes as we struggled to avoid conceding a third. Dale Shirkie make his debut with ten minutes remaining but the any hope of a miracle disappeared when Miller almost burst the net to complete our 3-0 loss.
There will have to be some improvements on Saturday if we are to avoid a three game losing streak.
Team: Nielsen, Reid, McManus, Hutchinson, Hammell, Vigurs Carswell, Lasley, Francis-Angol, Sutton, Anier