The Mighty 'Well ensured they would return to Hampden in May with a convincing 3-0 win over Aberdeen in the Scottish Cup semi-final. The margin of the victory did not flatter the Steelmen who have now reached their second national final of the season.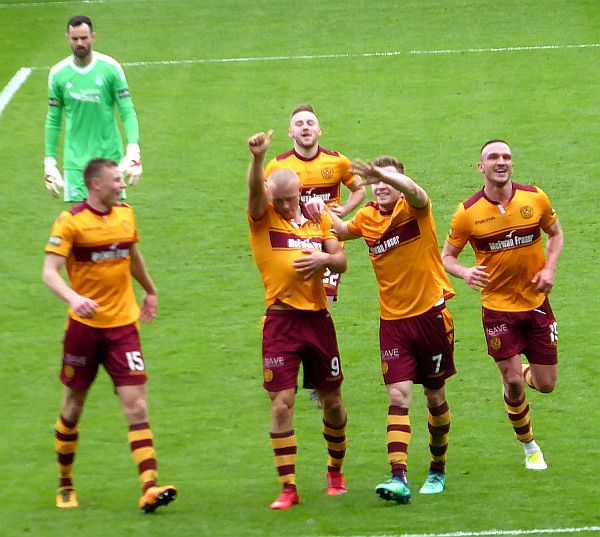 Man of the Match Main celebrates our third goal
Football can be a simple game. Be strong in defence, have a midfield full of energy and deliver the ball to two powerful strikers and results flow. In Main and Bowman we had excellent leadership. Their whole hearted attempt to win every ball gave the rest of the team confidence and it was fitting that the pair got their names on the score sheet.
Motherwell kicked off against the blue clad Aberdeen team with four changes in the starting eleven from the last outing. Cadden, Dunne, Campbell and Rose restored a more familiar look and it did not take too long for the Steelmen to show that they were in the mood.
After a scrappy opening spell that had both teams eagerly launching the ball from one end to the other we took control of the match with goals in 20 and 22 minutes.
Fine work by captain Tait on the dead ball line resulted in a low square drive into the six yard box where Curtis Main was happy to send the ball over the line. The cheering had hardly subsided before Bowman added our second. McKenna skied a clearance and Bowman pounced. Lewis blocked his first effort but he got a foot to the rebound and and the ball trundled into the net.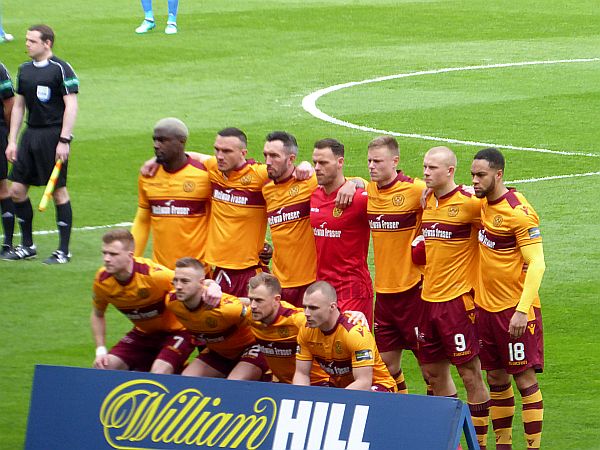 We never looked like losing the lead. The defence was solid, the midfield chased everything and the striking pair continued to deliver a nightmare to the Aberdeen defence.
Main topped off a terrific performance with our third goal. His presence forced Arnason into a mistake at the halfway line and he found himself in possession with an vacant forty yards on the way to goal. The entire Motherwell support was on its feet as he charged goalwards and fired the ball beyond Lewis and into the history books.
The game was won. Carson had yet to be forced into a decent save such was the paucity of the Aberdeen attack.
The striking duo were given standing ovations as they were substituted late in the game and the whole team participated in a celebration after the final whistle.
It is a huge achievement that Stephen Robinson has delivered to the club. Two cup finals a league safety is more than anyone expected back in July. More than a few glasses will be raised in his honour after this latest Hampden triumph.
Motherwell 3 Aberdeen 0
Attendance 18,470
Team: Carson Tait, Kipre, Aldred, Dunne, Grimshaw (MacLean 88), Campbell, Bowman (Ciftci 78), Main (Newell 85)
14 April 2018