A self-inflicted defensive blunder led to a Motherwell defeat against Hearts. Naismith was gifted the only goal of the game and our long periods of possession in the opposition half counted for nothing.
The hero of our last meeting with Hearts became the villain as he delivered a short pass back that cost a goal and the sad sight of Trevor Carson having to leave the pitch on a stretcher.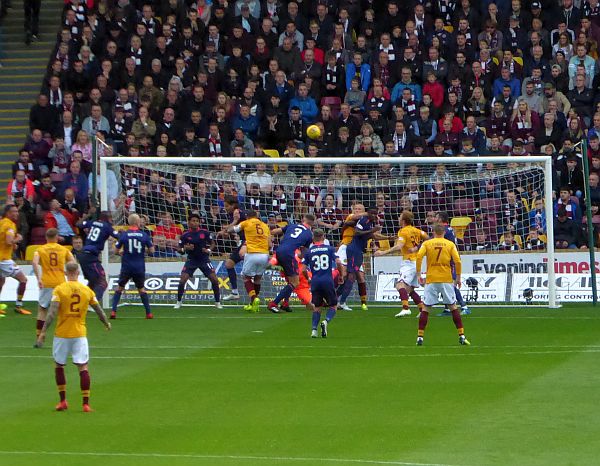 We fielded the same eleven as started against Dundee a fortnight ago and set about attacking the Hearts goal with gusto. We dominated the first half hour and earned an early set of corners when Zlamal was happy to concede to Main after a fine lay-off from Johnson, Tait's close range shot and from a 16 yard volley from Hartley.
If a goal was to come it seemed a certainty that it would come in front of the 3,000 travelling fans in the South Stand. Carson had nothing to do until he had a simple save from Morrison as he ran in from the left wing. Then disaster struck.
McHugh opted to return the ball to his 'keeper from forty yards out. The ball was under-hit and Carson had to sprint to win the race with Ikpeazu. The pair clashed beyond the angle of the penalty area and the ball spun free to be collected by Naismith. The forward had plenty of time to send it into the unguarded net.
Carson suffered damage to his ankle and had to be carried from the pitch as Mark Gillespie took his place between the sticks.
The early momentum was gone and the visitors, heartened by the unexpected gift, began to probe our defences. Had Haring converted his short range header before the break the contest might have ended.
McHugh almost redeemed himself in 48 minutes but his header from Bigirimana's cross was well held by Zlamal.
Cadden and Johnson were replaced by Frear and Bowman on the hour but we were unable to fashion a clear opportunity. Hearts took every chance to fritter away time as they killed the game. Gillespie did well to keep his goal intact and we need have no concerns if he starts at Pittodrie next week.
Motherwell 0 Hearts 1
Attendance 7,218 (2,922)
Team: Carson (Gillespie 30), Tait, McHugh, Aldred, Hartley, Cadden (Frear 60), Campbell, Main,Rose, Bigirimana, Johnson (Bowman 60)
Saturday 15 September 2018